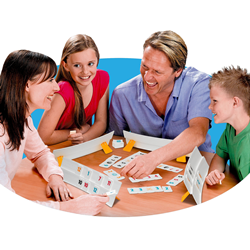 "Games are always there for us," said David Norman, President of Goliath. "Especially in times of trouble. They can be used to provide fun, a calming assurance that we're all sticking together – and even daily routines."
RICHARDSON, Texas (PRWEB) April 02, 2020
Families are called to stay at home and are looking for ways to establish routines during this new "normal." Goliath has some tips and tricks to use the power of games to create structure.
Routines are an easy way to provide structure for children during this time of uncertainty. Goliath assures that practicing these three techniques will help create calm in the household.
Teach children responsibility with daily chores. Get the kids involved in household tasks, have them unload the dishwasher or scoop the poop during walks! Doggie Doo is a great alternative to real doggie poo.
Feed your doggie and squeeze the leash. After he makes his gassy sounds - plop! If you are the player who cleaned up the doo, you get a fart token. The player who has the most tokens at the end of the game wins. Available at Amazon and Walmart.
Take this time together to start new traditions. Family game nights are always the answer. Now is a great time to begin a new tradition, and Rummikub is the best game to get started with.
With more than 55 million units sold, Rummikub is one of the world's best-selling and most-played games. Players take turns placing numbered tiles in runs or groups, Rummy style - the first player to use all of their tiles wins! Available at Walmart.
Parents are encouraged to ignore the temptation to throw on Netflix for hours and find creative way to stay active. The Soccer Slider brings the fun of soccer into the living room.
Safe to play indoors and tons of fun for hours, kids can practice their dribbling or challenge their parents with this gliding, soft foam slider that turns any smooth surface into game-time. Available at Amazon.
"Games are always there for us," said David Norman, President of Goliath. "Especially in times of trouble. They can be used to provide fun, a calming assurance that we're all sticking together – and even daily routines."
The Goliath Play Experts are now scheduling interviews on ways to say entertained in the current climate. Please reach out to Goliath's PR Team at a.lloyd@goliathgroup.com for more information.
About Goliath
Goliath was founded in 1980 by Adi Golad and he cofounded the Goliath's USA division with David Norman in 2008. Goliath is one of the few remaining family-owned global toy and game companies. Goliath is now a global manufacturer and distributor of a broad range of products. Examples include Wahu®, Rocket Fishing Rod®, Rummikub®, Rubik's Cube®, Tri-Ominos®, Sequence®, Pop the Pig®, Doggie Doo™, Gator Golf®, Let's Go Fishin® and Phlat Ball® .
The company has continued to see substantial growth with the acquisitions of Pressman Toy® and JAX® in the US, Crown & Andrews® and Britz 'n Pieces/Wahu in Australia, Modelco® in France, Elephanta® in New Zealand, and Vivid® in the UK. Goliath is a market leader in TV-promoted games and is active in many other toy categories, such as puzzles, arts & crafts, outdoor, activity, and novelties. Goliath products now sell in more than 75 countries worldwide and the company has offices in the Netherlands, Belgium, France, Spain, Portugal, Germany, Poland, Hong Kong, Italy, the United Kingdom, Australia, New Zealand, USA and Canada. For more information, please visit http://www.goliathgames.com.