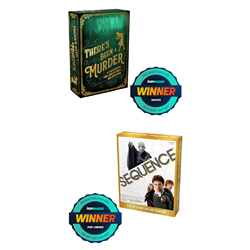 "We're thrilled to be part of Pop Insider's Holiday Gift Guide," says Goliath's Director of Marketing, Mary Higbe.
RICHARDSON, Texas (PRWEB) November 02, 2021
Goliath is thrilled to announce that two of their newest games, There's Been a Murder and Harry Potter SEQUENCE have been chosen for Pop Insider's 2021 Holiday Gift Guide!
Set in the 1930s, There's Been a Murder is a game of deduction where players work together to bring the Murderer to justice! Players use their cards to communicate with each other as they try to discover who is holding the Murderer card.
"We know our readers will love There's Been a Murder because it offers a fun mystery and is replayable to give players a different game every time." said Marissa Silva, editor-in-chief for the Toy Insider.
There's Been a Murder will be making its way to retailers soon.
Harry Potter SEQUENCE is the same classic gameplay people know and love but with an added theme inspired by the beloved Wizarding World. Players will play a card from their hand and place a chip on a corresponding space on the game board. When they have five in a row, it's a SEQUENCE!
Silva says, "Harry Potter SEQUENCE is the perfect blend of a classic game with an awesome cast of characters. It's perfect for families, no matter which Hogwarts house they belong to!"
"We're thrilled to be part of Pop Insider's Holiday Gift Guide," says Goliath's Director of Marketing, Mary Higbe. "Goliath is committed to bringing exciting products to market, and we know that consumers will have a blast with these two games."
Harry Potter SEQUENCE is now available in retailers.
Media samples are available upon request; please reach out to Goliath's Marketing Team at m.johnson@goliathgroup.com.
About Goliath
Goliath was founded in 1980 by Adi Golad and he co-founded Goliath's USA division with David Norman in 2008. Goliath is one of the few remaining family-owned global toy and game companies. Goliath is now a global manufacturer and distributor of a broad range of products. Examples include Wahu®, Rocket Fishing Rod®, Rummikub®, Tri-Ominos®, Sequence®, Pop the Pig®, Doggie Doo™, Gator Golf®, Let's Go Fishin® and Phlat Ball®.
The company has continued to see substantial growth with the acquisitions of Pressman Toy® and JAX® in the US, Crown & Andrews® and Britz 'n Pieces/Wahu in Australia, Modelco® in France, Elephanta® in New Zealand, and Vivid® in the UK. Goliath is a market leader in TV-promoted games and is active in many other toy categories, such as puzzles, arts & crafts, outdoor, activity, and novelties. Goliath products now sell in more than 75 countries worldwide and the company has offices in the Netherlands, Belgium, France, Spain, Portugal, Germany, Poland, Hong Kong, Italy, the United Kingdom, Australia, New Zealand, USA and Canada. For more information, please visit http://www.goliathgames.com.