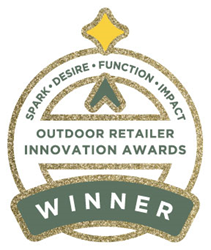 SEATTLE (PRWEB) November 12, 2018
The popular outdoor brand GoLite® relaunched this year under new ownership with powerful humanitarian and environmental initiatives and a sustainable activewear collection. While the collection does not hit the market until the Spring of 2019, one standout product, the GoLite ReGreen Windshell, comprised of 100% recycled green bottles, has already been recognized with an Outdoor Industry Innovation Award.
Thirty-two products and services were selected from hundreds as finalists by a panel of 20 judges consisting of outdoor industry luminaries, designers, retailers and journalists. The judges evaluated entries based on a variety of factors, including concept, design, functionality, originality, sustainability and impact. The winners represented 12 different companies and the products include sustainable materials, footwear, apparel and outdoor equipment for all seasons.
The GoLite ReGreen Windshell was developed in collaboration with the Tzu Chi Foundation, one of the world's largest charity organizations and recycling experts managing approximately 4,500 recycling stations in Taiwan. GoLite's ReGreen Windshell leverages 100% recycled polyester made from Tzu Chi Certified, post-consumer green bottles. Using the green bottles eliminates the need for dying, further reducing the ecological footprint. Additionally, colored plastic bottles are less desirable and often go unrecycled into landfills. By making the fabric from recycled bottles GoLite saves over 50% of the energy normally required to make the fabric. By not dying the fabric, they further reduce water consumption by up to 80%. GoLite's ReGreen will be available as of March 2019 via specialty outdoor retailers and online at golite.com
"We are honored to be recognized alongside such an inspiring line-up of brands," says Josh Clifford, GoLite Brand Manager. "We're all in this industry because we love and respect the outdoors and want them to stay clean. Every effort to achieve that is worth it," adds Clifford. "The ReGreen Windshell, developed in concert with Tzu Chi, represents our commitment to developing the most sustainable product solutions we can, while working together with others to clean up the Earth."
The awards ceremony took place at the Colorado Convention Center during Outdoor Retailer Winter Market and recognized design, innovation and achievement in the outdoor industry.
PRODUCT OF THE YEAR
PrimaLoft PrimaLoft® Bio™
WINNERS
Allbirds: SweetFoam™
Black Diamond Equipment: JetForce Pro
Cake: Kalk Electric Motorbike
Costa Sunglasses: The Untangled Collection - Baffin Sunglasses
Crescent Moon Snowshoes: Eva Foam Snowshoes
DPS PHANTOM: Permanent Waxless Glide
GoLite: GoLite ReGreen Windshell
LynQ: LynQ
Tecnica: Plasma S
About GoLite
GoLite's earth-friendly apparel designs merge outdoor performance with athletic functionality for active exploration.
Foundational brand pillars include the GoAid™ humanitarian and GoResponsibly™ environmental initiatives to do good, while minimizing environmental impact. GoLite GoAid™ collaborations with leading relief organizations consist of uniform and micro-enterprise programs that empower and protect local communities across the globe. Carefully chosen factory and mill partnerships ensure that products are manufactured in fair, safe, and non-discriminatory facilities. More than 80% of the introductory GoLite product line is developed from environmentally preferred, recycled and low energy production materials and processes. Company resources are dedicated to improving these percentages each season, while working to uncover newer, better solutions. GoLite – active outdoor gear that's light on the path and the planet. Launching spring 2019 with corporate headquarters in Seattle, WA. http://www.golite.com
Media contact:
Janine Robertson
Marketing/PR
GoLite®
janiner@golite.com
http://www.golite.com
Ph: 206 354-9093