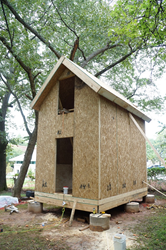 "It doesn't have to take weeks and months to build a tiny house, nor does it have to cost tens of thousands of dollars," said Frank Golley, founder and designer of Golley Houses.
DECATUR, Ga. (PRWEB) October 06, 2020
Golley Houses, the manufacturer of modular, environmentally friendly tiny house flat-pack kits, is providing an alternative to traditional stick framing construction with its modular "ring" design. The basic Golley tiny house flat-pack kit is built from four "rings" each made up of five panels, plus panels for the end walls, totaling 30 ring-shaped structural insulated panels (SIPs). SIPs are one of the most airtight, green and well-insulated building systems available.
The "ring" design translates into lower manufacturing costs and a lower purchase price for the customer, plus a simple way to add more living space. Each "ring" of components creates an additional four feet of space. Two or three modules creates another room. Developed to provide a cost-effective tiny house/accessory dwelling unit (ADU), Golley Houses offers numerous sizes and styles and can be constructed by three to four people in as little as one to two days.
"It doesn't have to take weeks and months to build a tiny house, nor does it have to cost tens of thousands of dollars," said Frank Golley, founder and designer of Golley Houses. "A Golley House provides a great living environment for people who want an affordable housing option, but it is also a solution for homeowners who just need a little extra space. A tiny house makes a great home office, in-law suite, guest house, rental house, art studio, backyard homeschool classroom, exercise room or anything else you might need extra space for."
Building a tiny home with SIPs requires less energy to heat and cool, provide better control over indoor environmental conditions than wood alone, and produce less construction waste than traditional stick construction. Structural Insulating Panels are constructed as a sandwich of Oriented Strand Board (OSB) and Encapsulated Polystyrene foam (EPS). The materials are fabricated in a factory, allowing for a controlled environment and greater efficiency than on-site framing. According to the Structural Insulated Panel Association, OSB is a green building material that relies on a fast-growing, underutilized and often less expensive wood species that is ground into chips and then converted into board. SIPs do not contain any volatile organic compounds (VOCs) or other harmful chemicals and meet some of the most stringent standards for indoor air quality.
SIPs creates a very tight insulated structure for energy efficiency and strength. The SIPs used for the basic Golley House include insulated walls, ceiling and floor. The SIPs replace the traditional house framing creating a monocoque structure much like the frame of your car or the shell of an egg. The panels are joined with splines and nails then glued with injected foam sealing the panel joints creating an envelope with no openings except for the for window and doors. The panel thickness determines the R-value of the panel and because there is very little air infiltration it is easy to achieve a very energy efficient building.
Along with pre-cut panels for the walls, roof and floor, the Golley tiny house flat-pack kit also includes all the splines, precut lumber, fasteners, caulk and foam sealant required for the build. A foundation dimension drawing is included with the kit. A foundation must be installed prior to assembly. Local building codes will determine the type of foundation used.
Building Golley Houses in a manufacturing facility and delivering them as flat-pack kits makes it possible to provide a strong, energy-efficient structure that can be customized to individual taste and needs. The basic Golley House is 10-feet wide and 16-feet deep. The side walls are 12-feet tall to allow for the addition of a loft space that has real stand-up headroom. The finished height of a Golley House is in excess of 16 feet making it suitable for use as accessory buildings or small cabins and cottages.
Planned add-ons include a window and door package, loft material package, kitchen cabinet layout, bathroom layout with toilet and shower fixtures, cut sheet for materials needed to build different exterior style treatments, and an interior materials list for finishing the interior in several styles such as farmhouse, rustic, arts and craftsman, contemporary and Tudor. For more information about Golley Houses, visit http://www.golleyhouses.com.
About Golley Houses
The Golley House is a modular, environmentally friendly tiny house flat-pack kit that provides a cost-effective, easily-assembled solution for alternative housing. The Golley House can be assembled by three to four people with limited construction experience in a matter of days. The Golley House's materials are both green and modular. Its components allow buyers to create custom, energy-efficient housing for a fraction of the cost of adding a room to their home or building a new home. The use of structural insulated panels reduces construction waste and creates a highly energy efficient environment. For more information, visit us online at http://www.golleyhouses.com.
###
Media Contact:
Stephanie Richards
SowGrow PR
678-744-7690
contact@sowgrowpr.com