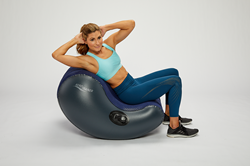 "We designed the AeroTrainer as an affordable, versatile, core fitness exercise platform that can give you a full-body workout in as little as ten minutes a day," says Chris Lundin, CEO of GOLO
NEWARK, Del. (PRWEB) August 27, 2020
In response to the needs of wellness-focused consumers and the current "stay-at-home" desire for fitness solutions convenient and effective enough for home use, GOLO launches its new AeroTrainer™ inflatable fitness exercise platform. Affordably priced at $99.80 and available by visiting http://www.AeroTrainer.com, the AeroTrainer fitness platform represents the next step in the evolution of GOLO as a total health and wellness brand.
Designed for every body type and fitness level, the AeroTrainer platform is an affordable, portable answer to many core fitness needs and goals. The human body has 29 core muscles. Together they act as the cornerstone for all the body's movements. AeroTrainer fitness platform helps strengthen these muscles, protecting and supporting the back, making the spine and body less prone to injury as well as increasing balance.
"We designed the AeroTrainer as an affordable, versatile, core fitness exercise platform that can give you a full-body workout in as little as ten minutes a day," says Chris Lundin, CEO of GOLO. "It's a great solution for home workout and core fitness routines as it helps strengthen and stretch muscles, reduce back pain, decrease stress, and more."
Regular exercise is the best-kept secret in preventative medicine. The AeroTrainer fitness platform is designed to help create strong core support, strong sculpted legs, among other benefits through a well-designed, 10 minute, low-impact workout. Its unique air technology design also creates a safe back traction position that stretches and elongates the spine helping to relieve back pain.
With a spherical base, concave seat, and convex back, consumers can exercise several muscles simultaneously, in a fluid and ergonomically safe and effective way. Designed with four internal chambers to distribute air evenly, the AeroTrainer fitness platform keeps its form and stability for safety while exercising. The platform safely supports over 500 pounds without deflating or bursting. Plus, the non-slip flocked fabric covering is washable. The AeroTrainer fitness platform is constructed of high-quality non-BPA PVC and is covered by a one-year warranty. Weighing just seven pounds and inflating in under 30 seconds with an included high-speed electric pump, the AeroTrainer fitness platform is ready whenever and wherever! Available for $99.80 at http://www.AeroTrainer.com, each purchase also includes the GOLO for Life Metabolic Plan.
About GOLO and AeroTrainer
GOLO® products provide safe solutions to weight-loss and wellness while helping individuals transition to a healthier and sustainable lifestyle. The developers at GOLO, LLC include a team of dedicated doctors, pharmacists, and researchers. GOLO has reached over a million people worldwide who now have a chance at healthy, sustainable, and affordable weight loss.
For more information about AeroTrainer, visit http://www.AeroTrainer.com or call 800-799-5838. Follow AeroTrainer fitness platform on social media for updates and tips: