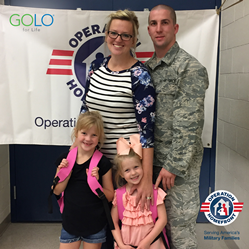 "We're happy to support the important work of the team at Operation Homefront," says Jennifer Brooks, President, GOLO, LLC.
NEWARK, Del. (PRWEB) March 23, 2021
GOLO, the pioneering wellness solutions company, announced a $10,000 donation to Operation Homefront, a national nonprofit dedicated to building strong, stable, and secure military families. The effort continues the company's commitment to supporting community-based health and wellness initiatives throughout the U.S.
"We're happy to support the important work of the team at Operation Homefront," says Jennifer Brooks, President, GOLO, LLC. "Our donation will help with critical financial and wellness needs of our amazing military families."
By connecting the American donor community with military families, Operation Homefront is able to help families overcome many of the challenges inherent in military life. For over fifteen years, Operation Homefront has provided programs that offer relief, through critical financial assistance and transitional housing programs; resiliency, through permanent housing and caregiver support services; and recurring family support, with programs and services throughout the year. The result: stronger, more stable, and more secure military families.
"With frequent deployments and relocations, too many service members and their families face financial and emotional challenges. We are thrilled to have GOLO join us as we work to help this very deserving group of fellow citizens overcome their financial hardships," said Ebony Strange, senior director, corporate partnerships, Operation Homefront. "We need to be there for them in their time of need for all they have done, and continue to do, for all of us in our nation's time of need."
Headquartered in Newark, Delaware, GOLO empowers individuals and communities by helping them take control of their health and wellness. The company's donation to Operation Homefront will support a range of wellness programming, including food assistance.
About GOLO
GOLO® products provide safe solutions to weight-loss and wellness while helping individuals transition to a healthier and sustainable lifestyle. The developers at GOLO, LLC include a team of dedicated doctors, pharmacists, and researchers. GOLO has reached over a million people worldwide who now have a chance at healthy, sustainable, and affordable weight loss. For more information about the GOLO® for Life plan, visit http://www.golo.com or call 800-730-4656.
About Operation Homefront
Founded in 2002, Operation Homefront is a national nonprofit organization whose mission is to build strong, stable, and secure military families so that they can thrive – not simply struggle to get by – in the communities they have worked so hard to protect. Recognized for superior performance by leading independent charity oversight groups, over 90 percent of Operation Homefront expenditures go directly to programs that support tens of thousands of military families each year. Operation Homefront provides critical financial assistance, transitional and permanent housing and family support services to prevent short-term needs from turning into chronic, long-term struggles. Thanks to the generosity of our donors and the support from thousands of volunteers, Operation Homefront proudly serves America's military families. For more information, visit OperationHomefront.org.