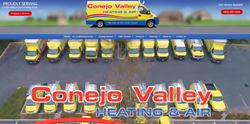 Richard Uzelac and GoMarketing Inc are committed to the Home Services Industries
THOUSAND OAKS, Calif. (PRWEB) August 31, 2019
Richard Uzelac's GoMarketing has established a dedicated division for home service industry companies to meet the demands of their current home services clients, as well at new referrals and requests for services.
"In the past ten years we have had a significant percentage of our Clients come from Home Services such as Heating and Air (HVAC), Plumbers, Flooring, Office Maintenance, Painters, Furniture, Home Builders and Home Remodelers, just to name a few. In all we have serviced over a dozen different types of companies in this industry, said Richard Uzelac, CEO of GoMarketing Inc.
"Given the huge experience we have with this industry and the satisfaction that comes with working with such great people, we decided to build a team around the home service industry. It all made sense to have a team that has experience and expertise," Richard Uzelac added.
"In many cases time is serious money for these companies. A Plumbing or HVAC company that still doesn't have a strong online marketing plan in place needs to play catch and quickly, especially if their competitors are completely dominating them online and getting all the leads and business. That's where we come in," says Richard Uzelac.
"Let's face it, if your website looks out of date and your competitor's site is firing on all eight cylinders, that could easily tip the scale in their favor and not yours. They could get that big Plumbing or HVAC job and become a client for life, and you will have lost a great possibility. Looking professional and trustworthy online is key today, and you need to be on the first page of Google to get that opportunity with that person searching for your services to begin with. This is what GoMarketing can do for Home Services Companies," said GoMarketing CEO Richard Uzelac.
GoMarketing can offer the following services for Home Service Companies: Website Development, Custom Content Creation, Search Engine Optimization, Link Building, Social Media Optimization and Management, Search Engine Optimization (SEO), Software Development, Online Reputation Management, Local Marketing, Custom Videos, Application Design, E-Commerce and Mobile Marketing and Optimization.
About GoMarketing:
Based out of Thousand Oaks, California, Richard Uzelac's GoMarketing Inc. uses the following mission statement to deliver digital marketing results to their clients:
"Understand. Engage. Succeed. Grow."
"GoMarketing has helped multi-national corporations like MetLife, ESPN, CBS and Fox Sports to grow their online presence and sales. Just as eagerly, GoMarketing provides local small businesses and professionals the expertise to build their leads and sales via digital marketing and advertising programs that are second to none," Richard Uzelac added.
Contact GoMarketing 805.413.7893 or visit http://www.gomarketing.com.
About Richard Uzelac, CEO of GoMarketing:
Founder of GoMarketing and RealtyTech Inc., Richard Uzelac is a former Emmy award winning network television graphics and branding producer. He was also an award-winning Realtor and a real estate company owner. Since 2005, Richard Uzelac has provided custom online marketing and advertising programs for Fortune 500 companies and small businesses nationwide and internationally.
"Our business is growing your business online to generate more sales and increase brand awareness, "says Richard Uzelac, CEO of GoMarketing.
Richard Uzelac is available for Consulting and for speeches on Internet Marketing and Advertising. Please contact Richard Uzelac at: 805.413.7893