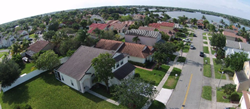 "GoMarketing wants to help banks, investors, and lenders create property-specific sites for the foreclosure process per California SB 1079," said Richard Uzelac, the CEO and Founder of GoMarketing Inc.
THOUSAND OAKS, Calif. (PRWEB) December 03, 2020
As of now, California Senate Bill 1079 bill has managed to alter the foreclosure process of homes at auction from January 1, 2021. The bill allows more freedom to tenants, local governments, housing nonprofits, and families. In fact, it serves as an opportunity to purchase foreclosed houses before big corporate buyers come into the picture. Perhaps, the most startling aspect of SB 1079 is that it gives local official bodies and governments complete immunity to penalize owners and corporations who have left properties vacant rather than selling, renting, refurbishing them.
GoMarketing will provide Web Design, Web Development and Web Hosting for these foreclosure sites required by SB1079.
Amidst COVID-19 pandemic, real estate investors want to make the most out of the new changes during the foreclosure process. The onslaught of recession and pandemic crises back to back has been rough for investors and lenders to create a better opportunity. "The introduction of 1079 bill calls for banks, lenders, and investors to have a more structured website for a diverse range of properties," added Richard Uzelac, the CEO and Founder of GoMarketing Inc.
"GoMarketing understands that the buying processes of distressed mortgages are not the same as getting foreclosed properties," continued Richard Uzelac, the CEO and Founder of GoMarketing Inc. It shouldn't come as a surprise that the major buyers throughout the foreclosure auctions have been private equity firms. And that's because private equity firms understand the essence of property management.
According to SB 1079, there is up to $1000 fine per day on vacant property owners who fail or ignore the maintenance altogether. In fact, vacant property owners can incur as high as $5,000 fine each day. It may sound like a vicious and mobius circle of fines, but property owners can avoid this nightmare scenario.
However, the silver lining of the 1079 bill is that sellers cannot sell multiple homes to a single buyer in a foreclosure auction. Instead, property owners will now have to sell foreclosed properties to individual buyers to fill the vacancy gap. The truth is that it creates a more fair chance for buyers to get the home. Once the initial foreclosure auction bids are complete, local governments, tenants, local land trusts, affordable housing nonprofits, and families will receive 45 days to make the highest bid and purchase the property.
As of now, Wall Street owns approximately $60 billion in rental housing in the U.S. In any case, it is imperative to understand that SB 1079 incentivizes major corporations to sell or rent properties. Ordinarily, it would have been normal for property owners to have vacant properties, but the current pandemic crisis has managed to create a need for hundreds and thousands of vacancies. "GoMarketing wants to help banks, lenders, and investors avert another monumental foreclosure crisis," added Richard Uzelac, the CEO and Founder of GoMarketing Inc.
Contact Information
Richard Uzelac (CEO and Founder of GoMarketing Inc.)
Address:275 East Hillcrest Dr. #170 Thousand Oaks CA 91360
Phone Number: 805-413-7893
Website: https://gomarketing.com/articles/richard-uzelac-ceo/