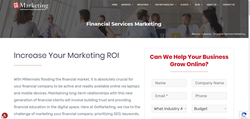 Financial Services businesses need to satisfy their traditional clients and the upcoming Millennial clients as well in 2020 and beyond. - Richard Uzelac, CEO of GoMarketing Inc.
THOUSAND OAKS, Calif. (PRWEB) December 23, 2019
Recently, the digital marketing and advertising experts at GoMarketing launched a new effort to provide customized, streamlined services and assets for potential financial services clients. The landing page built for this new division seeks to communicate the types of financial companies that benefit from the custom digital marketing plan, as well as more detailed information about the available services tailored to this industry. In all, GoMarketing's new financial services initiative aims to zero in on company culture to attract more web traffic and increase digital lead conversion. The digital marketing agency's new division will partner up with any of the following types of financial-based businesses: insurance, consumer-finance, mutual funds, retirement planning, credit unions, and more.
"Since Millennial audiences are approaching their prime spending years, it will be important for businesses and companies in the financial sector to reach them via digital platforms that are easy to navigate," stated Richard Uzelac, founder and CEO of GoMarketing, "Our new financial division will equip any financial company with tools that optimize lead generation for their customer base online." In particular, the new financial services initiative focuses on increasing ROI, mobile-friendly web design, and building domain authority for businesses in this sector.
GoMarketing also delivers digital marketing and advertising results for businesses in a wide array of industries, including: home services, law, healthcare, and more. The web developers and marketing managers at GoMarketing are dedicated to creating digital assets and strategies that help modern businesses grow throughout Ventura and Los Angeles County. To learn more about their new financial division in detail, visit:
https://gomarketing.com/industries/financial-services-marketing/
About GoMarketing
Based out of Thousand Oaks, California, GoMarketing. uses the following mission statement to deliver digital marketing results to their clients: "Understand. Engage. Succeed. Grow." Acting as digital marketing professionals within a wide range of industry sectors, the GoMarketing team specializes in SEO, content strategy, website design and development, and more--providing a full suite of marketing solutions that generate online leads and sales for businesses throughout Southern California. For more information about their custom marketing plans, contact Richard Uzelac, CEO of GoMarketing directly at 805.413.7893 or visit http://www.gomarketing.com.
About Richard Uzelac
Founder of GoMarketing and RealtyTech, Inc. Richard Uzelac has been in the real estate business for over thirty years. He started as an agent in New Jersey then office owner in California to real estate technology leader. Richard Uzelac was the Senior Director of Realtor.com before starting RealtyTech Inc. in 2002. Richard has given thousands of presentations and talks on real estate technology. Richard Uzelac is available as a speaker and consultant for real estate franchises, offices, and agents. Contact Richard Uzelac directly at 805.413.7888.