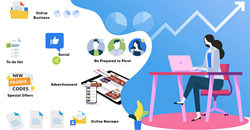 "Gallegos Plumbing has responsibility to do their best protect the health of their customers. We felt the responsibility to collect the most current data on procedures to help them and their customers best understand how to stay safe during their interactions," said Richard Uzelac.
THOUSAND OAKS, Calif. (PRWEB) December 10, 2020
GoMarketing Inc understands more information and safety measures have become the need of the hour for their plumbing clients like Gallegos Plumbing. It is a wonder to see how essential workers continue to remain professional during the pandemic and help homeowners and commercial businesses with their plumbing needs. When you're working from home, a clogged pipe or other plumbing issues are inevitable. Realistically, homeowners and commercial businesses cannot put a pause on short and long-term plumbing fixes indefinitely due to COVID-19.
"Plumbers have the responsibility on their shoulders, and that is to protect the health of American citizens. The COVID-19 pandemic requires careful consideration and deliberation to make each plumbing job visit safe for all parties. GoMarketing decided to create information for both Gallegos Plumbing's team and their customers and display it on their site so both parties know what to expect during their next plumbing appointment," said Richard Uzelac, CEO and President of GoMarketing Inc.
"When a plumber walks into a house, he should, of course, have a mask on. But that's not the end goal to remain safe. All plumbers should wear disposable gloves, disposable shoe covers and safety glasses throughout the in home service call. In addition, most plumbers should have a disinfectant spray and wipes to clean areas they have worked on. The idea is to spray before and after in the working area," said Richard Uzelac, CEO and President of GoMarketing Inc.
"Plumbers need to learn about the new COVID-19 guidelines, it is vital to keep an eye on new safety precautions. With proper safety protocols, plumbers, like Gallegos Plumbing, can perform the tasks with more confidence and without fear of contracting the virus," said Richard Uzelac, CEO and President of GoMarketing Inc.
When it comes to indoor environments, plumbers should view and use walls, closed doors, or hang plastic sheeting as physical barriers. It is an effective way to create a safe space between plumbers and homeowners.
Consider Administrative Measures:
Administrative personnel at the Plumbing companies should be knowledgeable about federal, state, and local safety guidelines of COVID-19. It is essential to be aware of geographic areas where the spread of the virus is high. Similarly, employers should screen customer calls during scheduling to evaluate any potential exposure in the house prior to entry. If the home has a Covid positive person in it, the service should only be performed if it is an emergency. Even then, the scheduler should instruct the Covid positive person to be sequestered in a closed room while the service personnel are working in the home.
About GoMarketing
Based out of Thousand Oaks, California, GoMarketing uses the following mission statement to deliver digital marketing results to their clients: "Understand. Engage. Succeed. Grow." Acting as digital marketing professionals within a wide range of industry sectors, the GoMarketing team specializes in many Services, including; SEO, content strategy, website design and development, and more. GoMarketing provides a full suite of marketing solutions that generate online leads and sales for businesses throughout the country. For more information about their custom marketing plans, contact GoMarketing directly at 805.413.7893 or visit GoMarketing.
About Richard Uzelac, CEO of GoMarketing
Founder of GoMarketing and RealtyTech Inc., Richard Uzelac is an Emmy award-winning graphics producer, former Director of Realtor.com, and sits on several boards of directors. Richard Uzelac's GoMarketing works with Corporations and Small Businesses to generate exposure, sales and improve online reputation. Mr. Richard Uzelac is also available as a Technology Speaker, Seminar Provider and Business Consultant. For more information, contact Richard Uzelac at 805.413.7893.