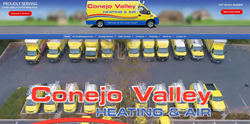 The Results from GoMarketing's online marketing and advertising programs have been amazing!
Thousand Oaks, CA (PRWEB) May 31, 2019
"We have worked with many home services companies and our results are second to none for our Clients," said Richard Uzelac, CEO of GoMarketing.com
"We approach online marketing for, say, an HVAC company with a multi-pronged strategy. We usually need to design and build a new website for new Client. Their current websites are usually quite old, not mobile friendly, or they can't accept the new software needed for success. While building the site we incorporate proper SEO optimization for search engine placement to build more traffic and generate more calls and leads. Once the site is launched, we constantly add more content and blog posts to capture more and more Google, Bing and Yahoo traffic of people searching for HVAC services," Richard Uzelac added.
"We have been working with GoMarketing.com for over two years now. The results are excellent! said James Devos, Manager of Conejo Valley Air. "The communication with Richard Uzelac and his team is very strong. GoMarketing suggests changes and new marketing strategies all the time and we can see great results. The site is always well maintained, and we are on the first page of Google in over a dozen locations in our service area for many of our services! We couldn't be happier with the results. They also offered exclusive service in our areas and will not work with any other HVACs that can compete with our company," DeVos added.
GoMarketing Works with the Following Home Services Providers, and more:
HVAC, Plumbing, Painters, Movers, Pest Control, Electricians, Flooring, Roofing, Solar, Window Installation, Home Cleaning, Landscaping, Remodeling, Building, Carpet Cleaning, Real Estate, Furniture,Pet Care Tree Care, Closet & Storage, and more.
GoMarketing offers a full spectrum of online services for their Clients and create a custom program to meet their business goals. These services include SEO, Search Engine Optimization, Local Business Marketing, Social Media Marketing, Content Marketing, Geo-Targeting Customers, Pay Per Click Google Advertising, Facebook Advertising, Social Media Management, Website Design and Development, Maintenance, Website and Reputation Management and Security
About GoMarketing
Based out of Thousand Oaks, California, GoMarketing uses the following mission statement to deliver digital marketing results to their clients: "Understand. Engage. Succeed. Grow." Acting as online marketing professionals within a wide range of industry sectors, the GoMarketing team specializes in SEO, content strategy, website design and development, and more--providing a full suite of marketing solutions that generate online leads and sales to Southern California businesses. For more information on their custom marketing plans, contact GoMarketing directly at 805-413-7893 or visit http://www.gomarketing.com.