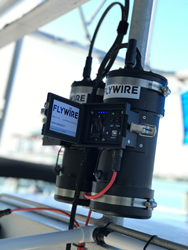 LEXINGTON, Ky. (PRWEB) April 28, 2020
As the fishing industry's need for cost effective at-sea monitoring solutions continues to grow, FlyWire, makers of the world's first turnkey precision fishing platform, has announced the launch of a revolutionary new approach to electronic monitoring that gives fishers a better way to balance the needs of the government and market with the needs of their businesses and communities.
FlyWire is using its patented technology and deep lean manufacturing expertise to help the fishing industry use technology to increase efficiency and drive down at-sea monitoring costs. The company anticipates a wave of new data-anchored profit possibilities for the fishing industry as new proposed rules by the National Oceanic and Atmospheric Administration (NOAA) can allow fishing vessels more choice in putting their data to work for their businesses.
FlyWire brings to bear years of experience in designing marine monitoring technology and industrial process solutions to streamline operations. The platform is the dream child of engineer and lean manufacturing expert Jacob Isaac-Lowry, the company's chief executive officer, and biological scientist Sarah Alessi, the chief operating officer. They are encouraged by how seafood producers have embraced the technology once they've seen the positive impact it can have on their bottom line.
"FlyWire is passionate about bringing the tools and techniques that revolutionized American manufacturing to the seafood industry," said Isaac-Lowry. "We hope to work alongside every vessel owner, captain, and crew to show how the data they harvest can be used to increase efficiency and boost profits in addition to meeting strict compliance obligations."
The first-of-its-kind, FlyWire platform allows fishing operations of any size to capture vessel-level data on every aspect of the commercial fishing operation – production, quality and supply chain management, regulatory compliance, and eco-label certifications.
The platform features:

proprietary hardware including unobtrusive miniature cameras, GPS and other sensors for any size vessel or fleet;
software and AI that collects, processes, analyzes and stores reliable data from each fishing trip including catch content and location, fishing effort and bycatch data;
electronic reporting that offers continuous insight into their operations and supply chain performance;
privacy rights for sensitive information and dissemination control; and
training and technical support for owners, captains, and crew
The company customizes technology and service plans based on the size of the vessel or fleet.
For more about the FlyWire platform, visit FlyWireCameras.com.