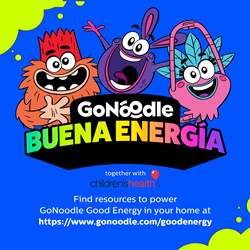 "GoNoodle is about helping build a world where all kids are happy, healthy, and empowered to be their best - and that means making sure as many kids as possible see themselves in our content"
NASHVILLE, Tenn. (PRWEB) April 02, 2020
Since our launch, 2 weeks ago, more than half a million families who are at home during these unprecedented national school closures have already danced, laughed, and chilled out using GoNoodle: Good Energy at Home. Now we're launching GoNoodle: Buena Energía to make select GoNoodle Good Energy videos and activities available in Spanish. Made possible with our friends at Children's Health in Dallas, the more than 13 million Latino-Hispanic families and anyone looking for Spanish or bilingual content will now have a selection of GoNoodle content ranging from silly, energetic dances to mindful, stress-reducing guides.
"GoNoodle is about helping build a world where all kids are happy, healthy, and empowered to be their best - and that means making sure as many kids as possible see themselves in our content," says GoNoodle CEO KC Estenson. "We know almost everyone has been affected by the school closures, so we're excited and grateful to work with Children's Health in Dallas to make select Good Energy resources available to a whole new group of kids."
The initial set of Buena Energía videos include:

"Merequete" - Families will have a blast together with the silly and tricky dance moves in this video.
"Unicorn Noodles (en Espanol)" - Blast off into space as you learn the order of the planets with this upbeat dance video!
"Ligero Como Una Pluma" - This calming mindfulness video helps kids use their breath and bodies to feel lighter and happier.
"Yo uso la Coma" - Kids can sing, dance, and learn how to use a comma with the dapper rappers, Blazer Fresh!
More Spanish videos will be released weekly, so we encourage families (and teachers) to sign up for updates on the Good Energy/Buena Energía page - https://www.GoNoodle.com/goodenergy
We'd also love suggestions on social media about content you'd like to see added to Good Energy/Buena Energía - just tag GoNoodle on Twitter (@GoNoodle), Instagram (@GoNoodle), or Facebook (@GoNoodleGames) and hashtag your ideas #GoodEnergy or #BuenaEnergía.
About GoNoodle:
GoNoodle is a media and entertainment company dedicated to empowering kids and creating good energy. Our movement and mindfulness content make screen time active time. Created by child development, education, and movement experts, GoNoodle is used in four-out-of-five U.S. public elementary schools and in millions of homes. At least 14 million kids play GoNoodle each month. Founded in 2013, GoNoodle is headquartered in Nashville, Tenn. For more, visit http://www.GoNoodle.com.
About Children's Health℠
Children's Health℠ is the eighth-largest pediatric health care provider in the nation and the leading pediatric health care system in North Texas, providing a full spectrum of health care services—from daily wellness and primary care to specialty visits and critical care. Holding eight disease-specific care certifications from The Joint Commission, Children's Health has been consistently named one of the nation's top pediatric providers by U.S. News & World Report. The Children's Health system includes Children's Medical Center Dallas, as well as Children's Medical Center Plano, Our Children's House inpatient rehabilitation hospital, multiple specialty centers, rehabilitation facilities, physician services and the Children's Medical Center Research Institute at UT Southwestern. For more information about Children's Health, visit http://www.childrens.com.