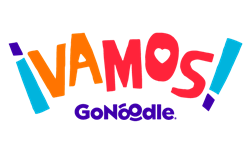 "To work with kids is to be embedded in the diversity of our country and our world. ¡Vamos! GoNoodle will allow all kids to bond with new friends through language, music, and dance," says GoNoodle CEO, KC Estenson.
NASHVILLE, Tenn. (PRWEB) September 15, 2020
GoNoodle is launching ¡Vamos! GoNoodle, a new multi-platform offering that will elevate and celebrate the multicultural world our kids live in today. With the support of Children's Health in Dallas, ¡Vamos! GoNoodle will feature bilingual, Spanish, and English content, with the aim to authentically engage and empower Latino kids and beyond. ¡Vamos! GoNoodle will reintroduce bilingual and Spanish versions of GoNoodle's most popular videos, and premier exciting new content including a new game, Súper Rufus Súper Soccer, and GoNoodle's new musical act, Enmoción.
"To work with kids is to be embedded in the diversity of our country and our world. ¡Vamos! GoNoodle will allow all kids to bond with new friends through language, music, and dance," says GoNoodle CEO, KC Estenson. "We are not simply translating GoNoodle - ¡Vamos! GoNoodle is a celebration of the Latino cultures we see across our audience. It is bilingual and bicultural content that we hope will inspire movement and create good energy for every kid."
¡Vamos! GoNoodle emerged from GoNoodle's commitment to inclusivity and creating culturally-relevant content that benefits physical wellness, academic success, and social-emotional health. GoNoodle has seen an increasing need for offerings that more deeply reflect the diversity of the world in which we live. To that end, GoNoodle partnered with Black//Brown to build a strategy, rooted in diversity and inclusion. ¡Vamos! GoNoodle is the outcome, the mission is to give Latino kids - and every kid - a new GoNoodle offering to enjoy and parents and teachers a new resource to explore language and celebrate Latino cultures.
"From the beginning, GoNoodle was determined that ¡Vamos! GoNoodle would be more than simply a project, product, or package for Latinos," said Charlie Echeverry, Managing Director of Black//Brown. "They made a strategic determination to best serve their various constituencies and then leaned into unique diverse insights to build a solution that would leverage their entire value chain. The result adds value for Latinos, and everyone else too."
In ¡Vamos! GoNoodle you can find your favorites like Purple Stew, Merequete, and Banana Banana Meatball. We will continue to grow each week as new videos, learning extensions, downloadables, and more are brought online. We encourage educators and families looking for Spanish-language and/or culturally-relevant videos and activities to get to know ¡Vamos! GoNoodle at vamos.gonoodle.com. To check out our ¡Vamos! GoNoodle videos now, go to https://family.gonoodle.com/channels/vamos-gonoodle
"GoNoodle is a must-have in my classroom. It sparks my student's interest and engages them in a fun and educational way. I teach at a dual language school, one week in Spanish, the next in English so I'm constantly on the hunt for bilingual content," says Ms. Miranda, a fourth-grade teacher at Farine Elementary in the Dallas area. "I am grateful that ¡Vamos! GoNoodle will be inclusive to all of my students and promote and celebrate Latino cultures."
As part of ¡Vamos! GoNoodle, GoNoodle is also introducing a new game called Súper Rufus Súper Soccer, featuring our bilingual champ Súper Rufus. Let your kids join the fun as they jump into the goalie position, blocking balls kicked by Súper Rufus, by downloading the free GoNoodle Games app. With the addition of Súper Soccer, the GoNoodle Games app now includes five interactive, movement-based mini-games for elementary school kids. Already launched games include Flo Yo's Bubble Pop, Om Petalhead's Flower Power, Zapp Von Doubler's Space Race, and Squatchy Berger's Rock and Roll. The GoNoodle Games app is available on Android and iOS. The GoNoodle video app is available on iOS, Android, Amazon Fire Tablet, Roku, FireTV, and Apple TV.
About GoNoodle:
GoNoodle is a media and technology company with a suite of active engagement products for kids and the adults who love them. Created by social-emotional learning experts, GoNoodle is dedicated to empowering next-generation humans and helping the grown-ups who love them positively charge every day with Good Energy. Used in millions of homes and four-out-of-five U.S. public elementary schools, GoNoodle's interACTIVE content that can energize, focus, calm, or cheer up. To turn screen time into active time, convert any space to play space, and make every time the best time - there's a GoNoodle for that - visit http://www.gonoodle.com to get started. Headquartered everywhere kids are.