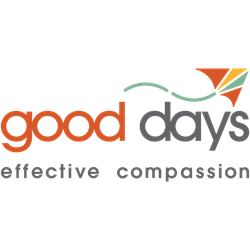 "From the first moment I spoke with Good Days they were compassionate, concerned and expedited the assistance that I needed... I am so grateful to Good Days, because they have literally saved my life." - Father Jim Deegan, Buffalo, MN
PLANO, Texas (PRWEB) November 21, 2018
Good Days, the national, independent 501(c)(3) non-profit charitable organization that makes life-saving and life-extending treatments affordable, is proud to announce it has earned a 2018 GuideStar Platinum rating, the highest recognition from the world's largest source of information on non-profit organizations. In addition, Good Days has also been recognized as a 2018 Top-Rated Non-profit by GreatNonprofits, the leading platform for user reviews and community sourced stories about non-profits.
"Good Days is a critical safety net for everyday Americans who, due to illness, would face serious financial hardship without our assistance," said Clorinda Walley, president of Good Days. "Given this responsibility, we are proud to showcase our commitment to upholding our fiducial responsibilities and maintaining transparency in alignment with the rules and regulations that govern our non-profit organization."
"Good Days is a great example of a non-profit making a real difference in their community," said Perla Ni, CEO of GreatNonprofits, "their award is well-deserved recognition not only of their work, but the tremendous support they receive, as shown by the many outstanding reviews they have received from people who have direct experience working with Good Days."
"From the first moment I spoke with Good Days they were compassionate, concerned and expedited the assistance that I needed. They have been very good about staying in touch with me in a compassionate and caring manner. I am so grateful to Good Days, because they have literally saved my life." - Father Jim Deegan, Buffalo, MN
GuideStar contains a profile for every tax-exempt nonprofit registered with the IRS. The GuideStar levels, acknowledged as symbols of transparency in the nonprofit sector, are displayed on all updated participants' profiles in the GuideStar database.
GreatNonprofits is the leading website where people share stories about their personal experiences on more than 1.6 million charities and non-profits. The GreatNonprofits Top-Rated Awards are the only awards for non-profits determined by those who have direct experience with the charities. The Top-Rated Nonprofit Award is the based on the rating and number of reviews that Good Days received from patients and their family members, volunteers, donors and aid recipients.
Find more information on our impact and metrics for success here: https://www.guidestar.org/profile/61-1462062
Read testimonials from individuals who have worked directly with Good Days here: https://greatnonprofits.org/org/good-days
Good Days is a national, independent 501(c)(3) non-profit charitable organization that makes life-saving and life-extending treatments affordable. Since 2003, Good Days has provided more than 800,000 grants and helped more than 500,000 people with access to healthcare resources.