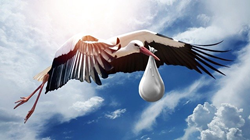 Baby's teeth start to develop between the third and sixth month of pregnancy and a good, balanced diet for the mother can help the teeth form correctly.
PASO ROBLES, Calif. (PRWEB) February 28, 2021
"Good dental habits are always important," says Paso Robles Dentist, Lisa Lu Davis, DMD, "and even more so during pregnancy." Hormone changes due to pregnancy, "morning sicknesses," food aversions, and other physical changes can contribute to changes in the gums and teeth.
Dr. Davis said that most of these changes and reactions are a natural part of pregnancy but it is still necessary to maintain good dental health habits and a good diet. For instance, a baby's teeth start to develop between the third and sixth month of pregnancy and a good, balanced diet for the mother can help the teeth form correctly.
The Paso Robles dentist answers some of the most common questions from expectant mothers, including:

The Mayo Clinic and the American Congress of Obstetricians and Gynecologists, say dental procedures are safe during pregnancy. A dentist may also recommend additional cleanings to help control pregnancy gingivitis, a mild form of gum disease that can develop between the second and eighth months. Procedures for cavities or crowns that help prevent infection are important during pregnancy. If possible, schedule dental procedures during the second trimester when sitting in the chair is more comfortable.
Dental X-rays are safe during pregnancy. A protective apron and a protective thyroid collar minimize exposure to radiation.
Hormones can make gums more easily irritated by plaque. "As many as 50-percent of women develop pregnancy gingivitis," said the Paso Robles dentist. It usually goes away after the baby is born, but it is important to maintain regular oral hygiene habits and ask your dentist about additional things that can be done to keep gums healthy.
"Morning sickness," gagging, and food aversions are discomforts experienced by many during pregnancy. "Morning sickness" can occur any time of day and expectant mothers soon learn to avoid situations and activities that can trigger vomiting and gagging. Unfortunately, brushing and flossing is sometimes one of those activities.
"It's an old wives' tale that mothers lose a tooth with every baby," says the Paso Robles dentist. At one time in history, when oral hygiene was not a normal practice, people lost their teeth due to poor habits and diets. That may be where the myth started. It's true that the hormones progesterone and estrogen can loosen ligaments and bones that keep teeth in place, and this condition usually corrects after pregnancy. Discuss any loose teeth or gum sensitivity and bleeding with your dentist.
Continue brushing and flossing. Eat a good balanced diet as recommended by your obstetrician. Get lots of rest and be as physically active as possible. Poor dental habits during pregnancy have been associated with premature delivery, intrauterine growth restriction, gestational diabetes and preeclampsia.
Smiles brighten the world. Dr. Davis is committed to help everyone, from babies to senior citizens have a healthy mouth and bright smile, using all of today's dental science and technology.
Lisa Lu Davis, DMD, Inc.
2120 Golden Hill Road Suite 103
Paso Robles, CA 93446
(805) 238-6777