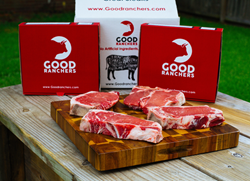 HOUSTON (PRWEB) February 04, 2021
Good Ranchers, a meat subscription company based in Houston, Texas is helping folks stick to their new year's resolutions – all while helping its customers stay safe by avoiding grocery stores and butcher shops, and while save time and money.
New Year's Resolution #1: Save Money
Good Ranchers offers affordable meat subscription boxes, which are the lowest price for any online meat delivery subscription – averaging $3.21/per meal, a whopping 40% cheaper than its competitors. The family-owned company brings only the best American steaks, chicken, and pork to its customers.
New Year's Resolution #2: Work Smarter, Not Harder
Skip the grocery store, and order one of four curated meat subscription boxes online and from the comfort of your own home. The boxes can be ordered with a quick click, offering a variety of options including:

Rancher's Classic: $139 Subscription, $169 One-Time
The Cattleman: $160 Subscription, $199 One-Time (Most Popular)
All-Natural Chicken Pack: $120 Subscription, $149 One-Time
Family Feast Bundle: $229 Subscription, $275 One-Time
New Year's Resolution #3: Cook At Home More Often/Spend More Time With Family
Planning ahead with an easy and convenient subscription box like Good Ranchers helps customers meal prep and stay on track. All of Good Ranchers meat comes individually packaged so you can easily store it in your freezer and pull it out the morning of to defrost it. Planning ahead and not having to run out to the grocery store will help you keep your food resolutions in tact. Read these family-friendly tips on making dinner at home feel like a restaurant.
New Year's Resolution #4: Eat Healthier
According to a recent Harvard article, people who frequently cook dinner at home consume fewer calories than those who cook less, according to a study of more than 9,000 people published online Nov. 14, 2014, by Public Health Nutrition.
Did you know steak is actually good for you? "The saturated fat in a cut of beef is actually healthy for the heart. The claim is based on a study in the American Journal of Clinical Nutrition that showed eating lean beef improved cholesterol levels and therefore reduced the risk of heart disease," according to a Business Insider article. Red meat is a terrific source of protein, as well as iron, B12, zinc, dietary creatine, and quite a few other good-for-you nutrients.
Good Ranchers uses only USDA grades: Prime and Choice. Read about the health benefits of grass-fed and grain-finished cattle.
New Year's Resolution #5: Give Back
By ordering Good Ranchers meat subscription boxes, you're helping give back and provide meals to your local community. Good Ranchers donates a portion of all proceeds to local food bank partners in each city they visit. To date, we have been able to create 450,000 meals to feed impoverished families. Last year (2020), the online meat company donated more than 300,000 meals to families in need.
If you are interested in trying Good Ranchers and would like to try one of our subscription boxes for editorial purposes, please email jaymelamm [at] yahoo.com for more information.
ABOUT GOOD RANCHERS
Founded in 2018, Good Ranchers is a family-run online meat retailer that delivers hand selected 100% American beef, All Natural chicken, and Berkshire heritage-breed pork (the most sought after pork in the U.S.) directly to customer's doors. All of our livestock grow in a stress-free environment, never fed anything unnatural, and are sourced from local ranches and farms throughout the heartland of America. We use the most innovative techniques to ensure every cut of meat that hits your table is a cut above the rest. For more information, visit GoodRanchers.com or follow the company on Instagram, Facebook, or Pinterest.