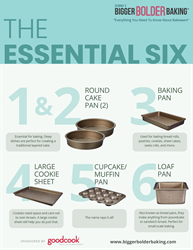 LOS ANGELES (PRWEB) November 11, 2020
Gemma's Bigger Bolder Baking, hosted by Professional Chef Gemma Stafford, a trusted baking authority who has gained more than 8 million followers on her website and social media platforms, will be launching her first "Everything You Need to Know About Bakeware" series sponsored by GoodCook® brand of bakeware.
The extensive guide is available now on http://www.biggerbolderbaking.com and more online content will launch on November 13th, 2020 at 10 am PST, kicking off with a live event on Gemma's Bigger Bolder Baking YouTube and Facebook pages. Following the live event, the popular online destination for "bold bakers" will roll out videos and posts featuring Gemma's favorite bakeware products, baking tips and more.
"The 'Everything You Need to Know About Bakeware' guide walks our bold bakers through the essentials – must have pans and the perfect set, materials, and surfaces; and how to care for your bakeware to stand the test of time," said Gemma. "I'm frequently asked questions about what products to use, and which ones are best for specific recipes. All these questions and more will be addressed throughout our new guide and video content."
With years of professional baking experience, Gemma understands that purchasing a reliable set of bakeware not only produces great, professional-looking outcomes but also makes the lives of bakers easier and more efficient in the kitchen. The goal of the "Everything You Need to Know About Bakeware" is to elevate consumer bakeware knowledge and confidence.
"Home bakers are faced with many options when it comes to purchasing bakeware and it can be overwhelming," said Gemma. "You don't have to spend a ton of money to get quality pieces. One of my favorite brands is GoodCook®, including its best-selling Premium Nonstick metal bakeware line, which can be found at Target.com and other national retailers and online. The brand also recently launched GoodCook® Sweet Creations® Textured Bakeware. This heavier weight line features a diamond-infused nonstick coating and a textured surface that has an amazing release. And the straighter sides lend for bakery-style results. I can't wait to show our bold bakers how a great bakeware set makes a huge difference in taste, texture and presentation."
All bold bakers are encouraged to engage with Gemma starting November 13th, 2020 at 10 am PST through December on http://www.biggerbolderbaking.com, as well as http://www.youtube.com/gemmastafford, http://www.facebook.com/biggerbolderbaking, and @biggerbolderbaking on Instagram.
About Gemma's Bigger Bolder Baking
Gemma Stafford is a professionally-trained, Irish-born chef and host of Bigger Bolder Baking, a top baking show online with 8M+ fans ("Bold Bakers") across her website, http://www.biggerbolderbaking.com, and social media. Gemma gives anyone the confidence to bake anytime, anywhere with her chef-tested recipes and Bold Baking secrets. Her videos have been viewed 350M+ times and she has been featured as a guest judge on Food Network's Best Baker in America and Nailed It! on Netflix, along with Today.com, The Doctors, and Buzzfeed's Tasty. The first Bigger Bolder Baking cookbook is a best seller with 1200+ 5-star reviews.
About GoodCook®
GoodCook® brand offers a wide assortment of kitchen tools, gadgets, bakeware, cookware, and food storage. Creating thoughtfully designed and affordable kitchenware for the home cook, GoodCook® products reflect the brand's personality—intuitive, inspiring, helpful and accessible. In keeping up with today's food trends toward an ever-expanding diversity of tastes, GoodCook® is building its brand by providing a robust catalog of recipes, instruction and useful tips on its website, http://www.goodcook.com.
GoodCook® brand maintains the number one market share for kitchen tools & gadgets, currently marketed and distributed by Bradshaw Home in more than 45,000 retail store outlets in North America.
# # #