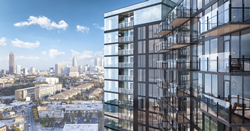 Seven88 West Midtown, a glass and concrete residential high-rise building under construction in West Midtown, was designed by renowned Atlanta-based architecture firm Goode Van Slyke Architecture (GVSA).
ATLANTA (PRWEB) January 17, 2019
Seven88 West Midtown, a glass and concrete residential high-rise building under construction in West Midtown, was designed by renowned Atlanta-based architecture firm Goode Van Slyke Architecture (GVSA). The firm, tapped as one of three local architects to work on the design of Mercedes-Benz Stadium, is well regarded for its commitment to the city of Atlanta, with a 22-year history in the city and a location in the heart of Atlanta's Old Fourth Ward neighborhood.
The Goode Van Slyke team, consisting of Chris Goode, Principal in Charge; Paul Van Slyke, Design Principal; Steven Denton, Project Manager Design; Jeff Morrison, Project Manager Production; Jay Leach, Project Architect; and Jason Wright, Job Captain, worked with the McKinley Homes team to create a master site and building plan that kept in mind the market requirements, as well as the neighborhood aesthetics and history.
Paul Van Slyke states, "The building was designed with intention to align with the area's industrial warehouse history and the modern version of West Midtown, a hip, vibrant, ever-growing community. The building's base will feature sturdy, dark brick that speaks to the area's original warehouse district, while the tower was designed using technologically-advanced construction methods."
One such advanced construction method is the building's concrete frame, designed to be more durable than the typical stick-built construction of most of the neighboring residential buildings. In contrast to the concrete interior, the exterior features another advanced construction method that is a shining example of modern architecture with a glass envelope offering incredible unobstructed views.
Taking advantage of the incredible views afforded by the project's location at 788 W. Marietta St. was a major requirement set by McKinley Homes, Seven88's developer. The area was a historic entry portal to the city dating as far back as the late 1800s, and today, it's the gateway to West Midtown and neighborhoods beyond. The location and high-rise construction offers panoramic views of Georgia Tech's campus to the south, Midtown to the east, Buckhead to the north and beyond, while the geometry of the building affords phenomenal views from every angle. The modern glass skin of the building, which allows those views, also hearkens to the city's past with metal features reminiscent of the railway lines located in the area. The contrast in materials, as well as the use of two different types of glass, breaks up the massive structure visually while still maintaining the simplicity and purity of the building's geometric form.
Another innovative feature of the building, designed with the modern buyer in mind, is its energy efficiency. Methods such as double-glazed exterior walls were used to ensure each home was well insulated, resulting in lower energy use.
A primary focus of constructing a glass and concrete building for residences is creating a sense of home within each space. The team tackled this by creating incredible amenity spaces throughout the building, such as an unusually big amenity deck complete with a variety of types of spaces to host various activities - large group gathering spaces, spaces for more intimate gatherings, and areas for outdoor cooking. The building also includes a private pool deck allowing for more active space, a dog spa for owners' best friends, indoor gathering spaces, an incredible fitness center and more. The materials used at the resident's entrance were also chosen with intention, focusing on natural materials and softer colors. Finally, individual units are larger than the standard intown condo, offering more comfortable living space.
The architect team at Goode Van Slyke Architecture was able to effortlessly combine a healthy respect for the neighborhoods' history and modern environment in the design of the building, a hard feat to accomplish in a single structure. For more information on Goode Van Slyke Architecture, visit http://www.gvsa.com.
ABOUT SEVEN88 WEST MIDTOWN
Seven88 West Midtown, the tallest high-rise development in West Midtown, is a smartly-designed 20-story residential tower in the middle of an urban utopia. A well-appointed building with resort-style, luxurious amenities and curated interiors, Seven88 has 279 residences with customizable finishes and dramatic city views. For more information and sales opportunities, visit http://www.788WestMidtown.com.
ABOUT MCKINLEY HOMES
McKinley Homes LLC is a land developer and builder based in Peachtree Corners, Georgia. McKinley specializes in real estate development, construction and management. The development team has more than 40 years' experience developing and building various commercial and residential communities in the Southeast and has developed various office buildings, apartment complexes, townhomes, single-family subdivisions, and hotels. Most projects are based in metro Atlanta, Athens, and South Carolina. For more information, visit http://www.McKinleyHomes.us.
Photo Note: Drone footage, building renderings and construction site photos are available for use. Please visit https://bit.ly/2CkmUx4 to access all press materials.