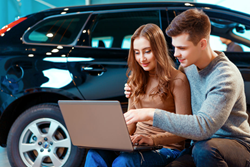 GLASGOW, Ky. (PRWEB) October 18, 2018
Those that have recently purchased a new car can understand how difficult and time-consuming the process can be. Drivers need to research new cars, find the right one for them, find a dealership nearby with a good price, then apply for financing and calculate payments and so on. The process can, at times, be overwhelming. But Goodman Automotive is aiming to make it a little easier to buy a new car with its "Shop Click Drive" online process.
The "Shop Click Drive" process from Goodman Automotive is meant to put all the steps for buying a new car in one place on the dealership's website. This way, drivers only have to shop, click and drive. To start, drivers can browse the inventory of Goodman Automotive that includes Nissan, Chevrolet and Cadillac vehicles. They can also read model research pages about the newest vehicles in the dealership's inventory to find the vehicle right for them.
Once car shoppers have found the perfect vehicle, they can use the "Create Your Deal" button that lets drivers customize a deal, so they get the lowest price each time. After that, drivers can find local offers, estimate a trade-in's value, calculate potential payments, apply for credit application, personalize the vehicle with accessories and finalize the deal. All in just a few clicks.
Now, drivers can cut down on the time they have to spend at the dealership signing paperwork from home and get into their new car faster than ever.
Anyone who is interested in the "Shop Click Drive" can check it out for themselves online at Goodman Automotive's website, http://www.goodmanautomotive.com. Those with any questions can contact the dealership's staff online, or by calling them directly at 270-678-1300. Drivers may also stop by the dealership in person at 1003 Happy Valley Road, Glasgow, Kentucky, 42141.