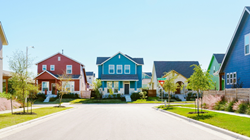 AUSTIN, Texas (PRWEB) December 11, 2018
As 2018 comes to a close, Goodnight Ranch reflects on a successful year filled with residential growth, exciting new developments breaking ground, a well-produced 2nd Annual Festival of Good and great progress on improvements to Onion Creek Metropolitan Park. Since opening in 2017, the 700-acre community is now home to more than 100 residences – completely selling out of the first section of single-family homes. In 2018 an additional 107 lots were added, with a total of 140 homes estimated to be complete by mid 2019. The third phase of 92 homes will also be available for purchase in 2019, in addition to new multi-family options that broke ground earlier this year, offering a range of housing options for every stage of life.
"We are thrilled with how Goodnight Ranch is expanding and has the opportunity to better serve the needs of residents in South Austin by providing a wide range of price-points and home sizes buyers and renters can choose from," said Myra Goepp, VP of Benchmark Land Development. "Our philosophy at Goodnight is to provide our community with the live, work, play mission Goodnight Ranch is known for, like offering pocket parks, trails and our annual Festival of Good event that residents can enjoy, which also helps foster connection among neighbors. We are looking forward to another successful festival and all the new developments to come in 2019."
In May 2018, Goodnight Ranch hosted the community's 2nd Annual Festival of Good – welcoming more than 300 attendees into the community for a family-friendly block party-style event celebrating all the "good" things in Austin. The event featured 30 local vendors - from handmade leather goods to apothecary products to purchase, to dog adoptions and face painting. Attendees also enjoyed complimentary Kona Ice, a petting zoo, balloon animals, yard games and live music - all manifesting the live, work, play at home aspect of the Goodnight community.
Over the summer Goodnight Ranch also announced the details for several new developments within the neighborhood that will expand the diversity of home options and amenities for residents and Austin as a whole. Among the new residential developments are the addition of 90 new townhome units that broke ground this year. Built by Avi Homes within 4-5 different pods, the new townhomes will be available in 2019, with both two and three bedroom options.
To provide more attainable housing within the neighborhood, Goodnight Ranch also welcomed the Commons at Goodnight by LDG Development, which broke ground earlier this year. The multi-family affordable housing complex offers one to four-bedroom units (with an onsite clubhouse, pool and library), which will be available for residents whose income does not exceed 60% of area median income.
Another new addition to the community is Nightingale at Goodnight, a mixed-income development for active seniors. Plans for Nightingale at Goodnight include: 174 units within a three-story elevator-served building, surrounded by single story cottages, access to a private fitness center community room, auditorium and library. Not only will these new residential developments provide more attainable housing options to help with the continuous growth happening in Austin, they also offer stunning views of the adjacent Onion Creek Metropolitan Park.
The Goodnight Ranch community also borders and is connected to the Onion Creek Metropolitan Park, with more than 120 acres of greenspace available within the neighborhood itself. This fall, the City of Austin made huge strides on their planned improvements to Onion Creek Metropolitan Park, which includes 20 acres of native wild space, 30 acres of open fields, 50 parking spots and trail enhancements. The improvements are projected to be complete in early spring 2019, giving Goodnight residents direct access to the park, through a three-mile hike and bike trail that also runs by Blazier Elementary.
Residents of Goodnight Ranch are also within walking distance from Blazier Elementary, and they will soon have access to a brand-new middle school, which has commenced design work and is projected to be complete late 2020. AISD also has plans for a high school on the Goodnight property in the near future, which will create an "educational hub" that is within walking distance from each other and the neighborhood, making schooling more accessible for residents.
Work is currently underway on the second section of Goodnight Ranch which includes single-family homes by Empire (formally Centerra Homes), M/I Homes, and 33 duplex units by Homes by Avi. With these new developments the neighborhood will offer residents even more housing options to choose from, a new amenity center to experience, as well as plans to host a 3rd Annual Festival of Good.
For more information about the Goodnight Ranch community please visit http://www.liveatgoodnight.com.