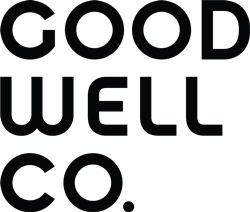 "We think of ourselves as a local company making a global impact, but, what's most meaningful is to make a true local connection and impact by supporting such an important organization as Rose Haven and helping those right in our own community," says Patrick Triato, Founder & CEO of Goodwell.
PORTLAND, Ore. (PRWEB) November 15, 2021
Goodwell Co., a leader in innovative and sustainable oral care products, announces it will kick off a two-part holiday campaign starting on November 18 in support of Rose Haven, a local Portland based day shelter and community center serving women, children and gender non-conforming individuals experiencing the trauma of abuse, loss of home and other disruptive life challenges. Goodwell will donate quantities of oral care essentials including bamboo toothbrushes and its signature Pacific Mint mini toothpastes to the Rose Haven community. The company will also launch a "buy a smile, give a smile" promotion, where with every online purchase of a bamboo toothbrush, one will be donated to Rose Haven. The full holiday giving campaign will run November 18-December 16, 2021 and Goodwell Co. is already planning to transition this into a year-round donation effort for next year.
"Prior to the COVID-19 pandemic, Oregon already had the second highest rate of unsheltered people in the country, and third highest rate of chronically homeless people in the U.S. with 35 people out of every 10,000 with no shelter, and 62% percent of the state's homeless were living outside in tents or cars," states Katie O'Brien, Executive Director of Rose Haven. "We're so grateful for Goodwell's support, and donating these much-needed everyday items will help so many individuals and families at Rose Haven suffering from abuse, homelessness and struggling to improve their daily lives."
As the only day shelter and community center specifically serving women, children and gender diverse people in Portland, Rose Haven has an open-door policy meaning they accept any woman in any condition who seeks their help. They provide at-the-door support for hundreds of people with nutritious food, water, emergency clothing, diapers, wipes, hygiene products, rain gear, mail service, pet food and other needed items. They also provide showers, bathrooms and hand washing sinks, outdoor supplies (tents, tarps, sleeping bags), additional support for medical, rental and utility emergencies, as well as advocacy and emotional support.
"We like to think of ourselves as a local company making a global impact with the sustainable design of our products," notes Patrick Triato, Founder and CEO of Goodwell. "But, what's most meaningful is to make a true local connection and impact by supporting such an important organization as Rose Haven and directly helping those in need right in our own community."
About Rose Haven
An important resource for women and children experiencing trauma in Portland for more than 20 years, Rose Haven is a 501C(3) nonprofit organization, providing sanctuary at our current facility in NW Portland, OR since 2007 (new location pending, see Home for the Haven campaign).
Rose Haven was founded in 1997 as a program of Catholic Charities after our founding director, Sr. Cathie Boerboom, a Good Shepherd Sister and Joan Van Almen conducted a survey where they walked the streets of Portland and asked women what they needed. The overwhelming response was a safe place to go during the day, where they could take their children and access resources. Two decades later we still offer programs based on our guests' self-defined needs; offering a low-barrier and accessible community resource center where women can meet physical and emotional needs, access social services and find community. Although not a religious organization, Rose Haven operates under the Good Shepherd value system which embodies "Compassion", "Individual Worth", "Reconciliation" and "Zeal". For more information please visit here and for updates on the Home for the Haven campaign, visit here. Also follow on Facebook, Instagram and Twitter.
About Goodwell
Launched in 2014, Goodwell Co. is on a mission to redefine the oral care category with purpose. With a full line of toothbrushes, toothpaste, dental floss and accessories, all products are dentist recommended, design centered and as sustainable as possible from start to finish – compostable, recyclable and always plastic-free packaging. Winner of Fast Company's World Changing Ideas Awards and the 2021 SELF Healthy Beauty Awards, Goodwell is a certified Climate Neutral Company, offers a take-back program to help customers reduce landfill waste and partners with EcoCart to provide a carbon negative order option for online customers. Products are available online at Goodwell Co. and in select retailers nationwide. To learn more, visit Goodwell Co. and follow on Instagram and Facebook.
Goodwell Media Contact
Roberta Tsang, RTPR
roberta@rtprcomm.com
General Inquiries
hello@goodwell.co
971.271.8089
Rose Haven
info@rosehaven.org
503.248.6364