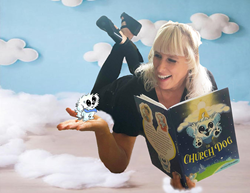 Every person on this Earth is created in the image of a loving God – uniquely beautiful and perfect.
Celebration, Florida (PRWEB) October 21, 2020
Amongst her many achievements, retired professional athlete, Olympic Family member and Humanitarian activist Tracy Mattes Mattes spent 25 years using her athletic and philanthropic skills for the advancement of children through education and sport. Tracy is now looking to further inspire the younger generation using a tale based on her own sweet pup, K'noot.
On November 1st, Mattes will release the first installment of the faith-based adventure series, "Church Dog," inspired by a real-life, church going dog in the Disney town of Celebration, Florida. The stories follow the exciting escapades of K'noot, a puppy sent from Heaven to teach people about God's unconditional love. With supernatural eyes that allow him to see people the way Jesus does, his mission is to help God's children understand their true identity as precious, unique and special to God. Church Dog and his furry friends take on real life issues that children face such as bullying, discrimination, grief, fear, as well as the importance of being kind, compassionate, standing up for each other and having self-esteem.
After traveling to more than 74 countries working with youth around the world, Mattes believes that there is a universal need for more kindheartedness. "We live in a world where too often people only look for the ugly and bad in themselves and each other," said Mattes. "That doesn't come from God." This encouraging series of stories aim to break down stereotypes and show children that every person on this Earth is created in the image of a loving God – uniquely beautiful and perfect.
The goal of the entire Church Dog team is to introduce a generation of children to Jesus. With the help of a Walt Disney Concept Artist, Mattes found just the right illustrator, Justin Greenly, who brilliantly brought the "Church Dog" to life. Also, a Sunday School Curriculum is being written with Michele Lewis under the Biblical guidance of Reverend Dr. William Lewis.
A Church Dog Book Launch Party will take place in Celebration on November 1st from 2-6pm. Autographed books will be available at Market Street Gallery, followed by story time at the Community Presbyterian Church Pumpkin Patch. There will also be an opportunity to take pictures with the real Church Dog and book characters!
Books are now available on Amazon! For the latest Church Dog events and news, follow Church Dog online at http://www.churchdog.org