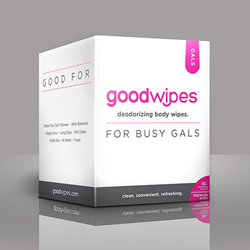 we wanted a good wipe when we couldn't shower
Delray Beach, FL (PRWEB) September 12, 2014
MiBellaReina.com launches this week the new deodorizing body wipe by GoodWipes. The Green-friendly single packaged wipe is perfect for when you can't find time for a quality shower. Inventors and co-founders, Sam Nebel and Charlie Siciak brainstormed the idea after an unpleasant outdoor concert port-a-potty visit.
Nebel said, "We are constantly on-the-go from the office to happy hour, to concerts and hot dates, to the gym or dinner with friends. We wanted a good wipe when we couldn't squeeze in a shower. We knew we weren't alone. Originally, we were buying the big tubs of wipes. Not only were they not on-the-go friendly, it made us smell like babies."
Discovered by MiBellaReina.com at a gift show, the inventors developed two versions of GoodWipes. The Deodorizing Body Wipes and the Below the Belt Wipes are both pH balanced and feature botanical extracts (like tea tree oil), aloe and essential oils. The hypoallergenic wipes are extra gentle for even the most sensitive skins. Conveniently packaged for girls and guys on the go, GoodWipes discreetly fits into any pocket, clutch, cell phone case or purse.
The little on-the-go wipe has taken Delray by storm as the spa and the website are sold out of the Cleansing Wipes for Down There for gals. The invention will revolutionize the body wipe industry as the small packages are easy to carry with you. The Refreshing Body Wipes by GoodWipes come in a convenient package of 10 single wrapped packages. And for those wet wipe fanatics that are impressed by size, the large 11.5 x 9.5 inch wipes are four times larger than any wipe on the market today. For more information on GoodWipes or MiBellaReina.com, email info(at)MiBellaReina(dot)com.
About Bella Reina: Bella Reina is the leading spa provider and definitive authority on luxury beauty, wellness, and spa treatments. Bella Reina was created by Nancy Reagan, a nationally recognized expert in beauty, nutrition, weight loss, skin care, and makeup. Nancy and Bella Reina Spa have been featured in the New York Times, WebMD, Les Nouvelles Esthetique & Spa, and PC Advisor for spa industry expertise and business success. To learn more about how Bella Reina is constantly innovating both spa services and shopping, please visit BellaReinaSpa.com or MiBellaReina.com.