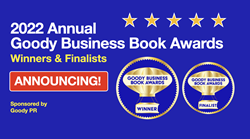 With 46+ million books now published on Amazon, we are excited to spotlight these exceptional books and help authors stand out as Award-Winning Authors within their niche area of expertise. - Liz H Kelly, Goody Business Book Awards Founder
SANTA MONICA, Calif. (PRWEB) November 15, 2022
To recognize authors making a difference with words, the Annual Goody Business Book Awards announces 111 Award-Winner Authors for 2022, including 57 Winners and 54 Finalists in 45 book categories and 10 genres. With hundreds of nominations from around the world, these awards are being presented by Goody PR to shine a light on outstanding books and add value to the author's book marketing campaigns.
"With 46+ million books now published on Amazon, we are excited to spotlight these exceptional books and help authors stand out as Award-Winning Authors within their niche area of expertise. For example, if you wrote a book about wealth creation, getting a book award in our 'Money – Management' category makes it much easier for readers to find you in the search engines," explains Goody Business Book Awards Founder Liz H Kelly.
What makes these book awards unique is that they honor 100% social impact books. HOW the author's book is helping others (save money, eat healthier, invest in real estate, start a company, educate readers on tips, inspire readers, be a better leader, provide entrepreneur tips, and many more impacts) is highlighted next to their award on the Goody Business Book Awards - AWARDS pages by category.
All Award-Winning Authors were selected by a panel of marketing and communications judges based on their book quality and impact. Some of the most popular categories have multiple Winners and Finalists because there were so many well-written and game changer books. Each Winner and Finalist are not ranked, and it is considered a tie for all recognized if there is more than one.
The Award-Winning Authors being recognized are for mostly non-fiction and some fiction books published within the last 5 years (2018-2022) by traditional publishers (St. Martin's Press, HarperCollins Leadership, Hay House Inc., Page Two), independent publishers (Kogan Page, Tradecraft Books) and self-published.
Some of the popular book award categories that received the most nominations included: Business – General, Self-Help – Inspiration, Self-Help – Memoir, and Leadership – Think Differently.
The 111 Winners and Finalists are encouraged to share their good news everywhere (add to the book and author websites, share on social media, send out a press release, add to the Amazon book description, publish the awards seal on the book cover and create a video) to add value to their upcoming holiday and book marketing campaigns!
The Goody Business Book Awards Honorary Board of Advisors includes successful founders and experts in the marketing, public relations, publishing, and media industries, including Carl Starr Taylor (Star House Publishing), Mary Rau (Mary Rau Public Relations), Michele Weisbart (Michele Designs), Richard Winfield Lewis (The Lewis Group), Ryan Treasure (Media), Susan Bejeckian (SA/SB Public Relations), Tara Coomans (Avaans PR & Social Media), and Wendy Guarisco (Guarisco Group).
VIEW and SHARE - 2022 GOODY BUSINESS BOOK AWARDS
Anyone can view, share, and congratulate these Award-Winning Authors by visiting the Goody Business Book Awards page:
https://goodybusinessbookawards.com/2022-gbba-winners-awards
2023 NOMINATIONS are Now Open for the next year here:
https://goodybusinessbookawards.com/nominate-book
FOLLOW NEWS:
Instagram @GoodyBusinessBookAwards
https://www.instagram.com/goodybusinessbookawards
Facebook @GoodyBusinessBookAwards
https://facebook.com/goodybusinessbookawards
ABOUT: The Goody Business Book Awards are presented by Goody PR to "Uplift Author Voices" with social impact book awards. Goody PR Founder, Award-Winning Author ("8-Second PR") and Podcast Host Liz H. Kelly designed the Goody Business Book Awards program to amplify authors making a positive impact with words. This annual awards program is an extension of Goody PR's Mission to "Magnify Good". Kelly's agency works primarily with clients who are Authors, Businesses, Business Professionals, Business Owners, CEOs, Founders, Entrepreneurs, Speakers, CEOs, Thought Leaders, Experts, and Causes. To amplify their story, Goody PR is grateful to have booked thousands of interviews on major media, including the TODAY Show, CNN, BBC World News, NPR's Marketplace, TIME Magazine, The Chicago Tribune, The Wall Street Journal, WOR 710 AM, Fast Company, and hundreds of local TV, radio shows and podcasts. For more information about Goody PR and the Goody Business Book Awards, visit https://goodypr.com and https://goodybusinessbookawards.com