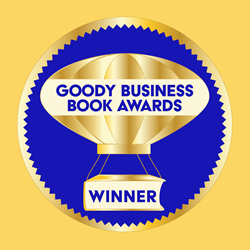 With the U.S. publishing 4+ million books in 2019 alone (according the ProQuest), these Goody Business Book Awards can add great value to book marketing and public relations campaigns. - Goody PR & Goody Business Book Awards Founder Liz H. Kelly
SANTA MONICA, Calif. (PRWEB) January 10, 2022
Goody Business Book Awards opens 2022 book nominations by launching a new program designed to "Uplift Author Voices" making a difference with words! While many book awards highlight writers who are a force for good, this First Annual Goody Business Book Awards program will honor 100% social impact books in 50 categories. The goal is to amplify authors in their niche area to better attract potential new readers, fans and clients.
Goody PR and Goody Business Book Awards Founder, Award-Winning Author and Podcast Host Liz H. Kelly explains; "After nominating many clients for business book awards and extensive research as a bestselling author ("8-Second PR"), we saw a need for a more comprehensive program focused on helping thought leaders magnify their book messages and stories through the power of recognition."
Kelly adds, "With the U.S. publishing 4+ million books in 2019 alone (according the ProQuest), these Goody Business Book Awards can add great value to book marketing and public relations campaigns."
Any book that is improving lives is eligible if published within 5 years. For 2022, any book published in 2018, 2019, 2020, 2021 and 2022, can be nominated. These unique awards can help authors increase awareness of their book, build credibility as a trustworthy source, increase sales, and attract more raving fans and business clients.
Anyone can nominate a book in 10 genres and 50 award categories. The ten areas include Business, Children's Books, Entrepreneur, Health, Leadership, Marketing and Sales, Money and Wealth, Real Estate, Self-Help and Technology. Authors, publicists, publishers, readers and fans can nominate books.
When submitting a nomination, authors will be asked 2 short questions (150-word maximum answer) about the book's impact, including:

1. What is the Author's WHY? (What compelled the author to write this book?)
2. How is the book making a Positive Impact – with Words? (Does the book help people save money, start a business, be a better leader, market products, build wealth, invest in real estate, live healthier and more?)
Goody Business Book Awards – 2022 Nomination and Awards Timeline:

January 1 - September 30, 2022 - Nominate your Books
November 15, 2022 - Award Winning Authors Announced
November 15 - December 31, 2022 & Beyond – Promote Award-Winning Authors
100 Award-Winning Authors (50 Winners and 50 Finalists) will be announced by the Goody Business Book Awards on November 15, 2022. These Winners and Finalists can promote their book award on their front cover, website, social media, blogs - and even distribute a press release announcing the news!
The Goody Business Book Awards logo is a hot air balloon with a book as the basket to symbolize "Uplifting Author Voices." Kelly adds, "Similar to how each patch in a balloon lifts up its' passengers, each page in a book can tell a powerful story. All authors are like balloon pilots driving a narrative. Help us shine a light on authors doing good with words by nominating your book and/or your favorite book."
A Goody Business Book Awards Honorary Board of Advisors has been established with successful founders and experts in the marketing, public relations, publishing, and media industries, including Carl Starr Taylor (Star House Publishing), Mary Rau (Mary Rau Public Relations), Michele Weisbart (Michele Designs), Richard Winfield Lewis (The Lewis Group), Ryan Treasure (VoiceAmerica), Susan Bejeckian (SA/SB Public Relations), Tara Coomans (Avaans PR & Social Media), and Wendy Guarisco (Guarisco Group).
NOMINATE BOOKS:
Anyone can nominate a book for 2022 Goody Business Book Awards here: https://goodybusinessbookawards.com/nominate-book
FOLLOW NEWS:
Instagram @GoodyBusinessBookAwards
https://www.instagram.com/goodybusinessbookawards
Facebook @GoodyPR
https://www.facebook.com/GoodyPR
ABOUT: The Goody Business Book Awards are presented by Goody PR to "Uplift Author Voices" with social impact book awards. Goody PR Founder, Award-Winning Author ("8-Second PR") and Podcast Host Liz H. Kelly designed the Goody Business Book Awards program to amplify authors making a positive impact with words. This annual awards program is an extension of Goody PR's Mission to "Magnify Good". Kelly works primarily with clients who are Authors, Businesses, Business Professionals, Business Owners, CEOs, Founders, Entrepreneurs, Speakers, CEOs, Thought Leaders, Experts, and Causes. To amplify their story, Goody PR is grateful to have booked thousands of interviews on major media, including the TODAY Show, CNN, BBC World News, NPR's Marketplace, TIME Magazine, The Chicago Tribune, The Wall Street Journal, WOR 710 AM, Fast Company, and hundreds of local TV, radio shows and podcasts. For more information about Goody PR and the Goody Business Book Awards, visit https://goodypr.com and https://goodybusinessbookawards.com