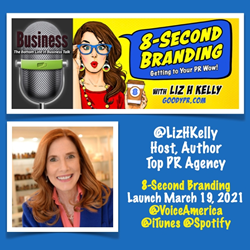 "Our network is excited to have 8-Second Branding hosted on our VoiceAmerica Business Channel platform to help our listeners amplify their brand story and learn how to get major media interviews." - Ryan Treasure, VoiceAmerica Talk Radio Network's Vice President of Broadcast Operations
SANTA MONICA, Calif. (PRWEB) March 18, 2021
Goody PR Founder and Author Liz H Kelly announces her new 8-Second Branding Podcast that will officially launch on Friday, March 19, 2021, to help CEOs, small business owners, entrepreneurs, and authors better define their Wow Story in 8 seconds (average attention span of an adult.) This show will be hosted on the VoiceAmerica Business Channel and available on all major podcast platforms (Apple Podcasts, Spotify, Google Podcasts, Stitcher, Tune In, Player FM, iHeart Radio, Overcast and Amazon Music.)
Based on Kelly's 15+ years of marketing and public relations experience, booking thousands of media interviews (TODAY Show, CNN, The Wall Street Journal, TIME Magazine, BBC News, NPR and more), and Award-Winning book "8-Second PR," this show is part of Goody PR's overall mission to "magnify good" and make a difference.
Ryan Treasure, VoiceAmerica Talk Radio Network's Vice President of Broadcast Operations emphasized, "Our network is excited to have 8-Second Branding hosted on our VoiceAmerica Business Channel platform to help our listeners amplify their brand story and learn how to get major media interviews."
To jump-start this new podcast, 4 Expert Guest Launch interviews will air starting March 19th in sync with the first weekend of spring 2021, including: Laura Michelle Powers (Top 100 Podcast Host and Author "Rock Your Podcast"), Julie Spira (Top Online Dating Expert and Media Personality), Scott Monty (Ford Brand Visionary and Brand Storyteller) and Jay Samit (Change Agent and Author, "Future Proofing You.")
WHERE TO LISTEN
8-Second Branding - Getting to Your PR Wow! – VoiceAmerica Business
https://www.voiceamerica.com/show/4011/8-second-branding
Using the same superpowers of an unstoppable superhero, the new 8-Second Branding show will help brands be a force for good, build loyal fans and ultimately increase sales.
EPISODE 1 - Friday, March 19, 2021
GUEST: Laura Michelle Powers, Celebrity Psychic, Creative Entrepreneur and Author
TOPIC: How Top 100 Podcast Host Laura Michelle Powers Leverages PR
SUMMARY: Learn timely marketing tips based on Powers' experience hosting 6 podcasts and new book, "Rock Your Podcast – How to Launch, Grow and Monetize Your Show" (2021), and insights from Chapter 9 – Leveraging Podcasts to Maximize PR. Follow @ThatLauraPowers and listen here:
https://www.voiceamerica.com/episode/129147/how-top-100-podcast-host-laura-michelle-powers-leverages-pr
EPISODE 2 - Saturday, March 20, 2021
GUEST: Julie Spira, Top Online Dating Expert, Media Personality and Author
TOPIC: How Top Online Dating Expert Julie Spira got 1500 Media Hits
SUMMARY: Learn how to get booked on TV, radio, print and podcast interviews during this fun conversation with "The Perils of Cyber Dating" Author Julie Spira about how she got 1500 Media Hits (interviews, quotes and feature stories), including on the TODAY Show, Good Morning America, CNN, The New York Times and many, many more. Follow @JulieSpira and listen here:
https://www.voiceamerica.com/episode/129150/how-top-online-dating-expert-julie-spira-got-1500-media-hits
EPISODE 3 - Sunday, March 21, 2021
GUEST: Scott Monty, Brand Visionary, Storytelling and Social Media Rock Star
TOPIC: How Former Ford Brand Visionary Scott Monty transforms Big Brands
SUMMARY: Join us for a fun conversation about how Scott Monty transforms Big Brands and underdog companies (Ford Motor Company, T-Mobile and more.) Monty discusses brand marketing campaigns, influencer marketing and social media success tips. His focus is on brand storytelling with clients that highlight "History, Literature and Philosophy." Monty shares his Timeless and Timely Newsletter and insights on the latest social media platforms, including Clubhouse, Twitter Spaces, and Fireside Chat. Follow @ScottMonty and listen here:
https://www.voiceamerica.com/episode/129155/how-former-ford-brand-visionary-scott-monty-transforms-big-brands
EPISODE 4 - Monday, March 22, 2021
GUEST: Jay Samit, Entrepreneur, Author and Change Agent
TOPIC: How Future Proofing You Author Jay Samit Maximizes OPM Marketing
SUMMARY: In sync with his new book launch, join us for a timely conversation with Jay Samit, Author of "Future Proofing You" (Wiley, March 23, 2021). Samit has raised hundreds of MILLIONS of Dollars for startups, worked with major brand clients (American Express, Disney, Best Buy), mentored successful entrepreneurs and visionaries (Bill Gates, Steve Jobs, Reid Hoffman from LinkedIn), sells companies to FORTUNE 500 Companies, and transformed pre-IPO start-ups and businesses for three decades. Listeners will learn why Samit recommends using OPM Marketing to maximize promotional campaigns with an example of working with McDonald's. Samit also talks about how he mentored a millennial to be a millionaire in under one year by starting a marketing agency (full story in new book.) Follow @JaySamit and listen here:
https://www.voiceamerica.com/episode/129162/how-future-proofing-you-author-jay-samit-maximizes-opm-marketing
For more show updates, follow @LizHKelly on social media and visit Goody PR's 8-Second Branding Podcast page: http://goodypr.com/8-second-branding/
MEDIA CONTACT
Liz H Kelly, Goody PR Founder, 310-987-7207