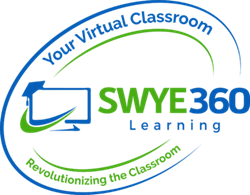 Your Teacher-Led Virtual Classroom
FRISCO, Texas (PRWEB) July 16, 2020
SWYE360 Learning is a full turnkey solution for school districts and teachers to seamlessly deliver direct online instruction to all students regardless if they are in the classroom or at home learning and with all the reporting tools available for tracking attendance. With the integration of Google Classroom capabilities, teachers can now easily port over all their lessons and assignments they create in Google Classroom and use them in their SWYE360 virtual classroom.
Google Classroom is a web service for schools to create, distribute, and grade assignments. The primary purpose of Google Classroom is to streamline the process of sharing files between teachers and students.
"With this integration, it helps streamline the online teaching process for teachers that are already inundated with online resources. SWYE360 provides teachers a structured and streamlined environment to manage and deliver direct virtual instruction all in one place," says Jacob Makuvire CEO & Co-founder of SWYE360 Learning.
About SWYE360
With SWYE360, schools create content, lesson plans, assignments, assessments, manage classes and initiate virtual instruction all in one place. SWYE360 is the only fully integrated collaborative learning platform designed as a virtual instructional tool designed to support teachers, students, and district leaders.
Media Contact
media@swye360.com
Jacob Makuvire, CEO