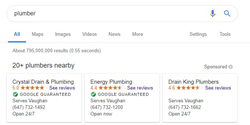 "We want to take a proactive, rather than reactive approach with our Canadian customers as well as newly affected clients in the United States. That is why we take action for our clients immediately when the program launches in their respective industry."
VAUGHAN, Ontario (PRWEB) December 11, 2018
If you have recently searched for plumbing, locksmith or HVAC services on Google, you may have noticed that some local services have a green check mark under them labelled "Google Guaranteed". This is a feature that has recently become available in Canada, and helps local businesses strengthen their online reputation and get more clicks on their paid ads.
What is "Google Guaranteed"?
Local businesses receive a "Google Guaranteed" badge on their listing if they pass Google's strenuous screening test. Customers who are not satisfied with the service received from any company with this badge can be reimbursed by Google.
How Will "Google Guaranteed" Affect My Business?
Judging from last years rollout of the Google Guaranteed Program in the United States, refraining from obtaining the badge has a detrimental effect to local businesses. This is because Local Services Ads cause organic listings and AdWords ads to be pushed further down the page of search results. Also, without the "Google Guaranteed" badge, potential customers have a harder time trusting companies that do not have this accreditation. This drastically decreases visibility, traffic and conversions for many businesses.
"We had many companies on the verge of going out of business or bankruptcy contacting us after the Google Guarantee rolled out in specific American cities last year," says CEO of Mrkt360, Eran Hurvitz. "Based on our past experiences helping these clients, we want to take a proactive, rather than reactive approach with our Canadian customers as well as newly affected clients in the United States. That is why we take action for our clients immediately when the program launches in their respective industry. Since Google does not disclose when, where and which industries will be effected by the Google Guarantee next, we recommend all service providers to be prepared."
How Can a Customer Get Reimbursed?
Suppose a customer gets their toilet unclogged by XYZ plumbing company, who had a Google Guaranteed listing. If they happen to be unsatisfied with the service they received, the customer can submit a claim to Google, provided that the customer booked the service via Local Services, the claim was submitted within 30 days of the service completion date and the customer has a receipt that shows the business name and amount paid. Google will then reimburse the customer up to the cost of the initial service, with a lifetime cap of CAD $2,000 (or USD $2,000 in the United States).
Who Can Apply for the "Google Guaranteed" Badge?
As of now, the Google Guaranteed badge is only available for certain industries and varies from country to country. In the United States, the badge is available for locksmiths, plumbers, electricians, HVAC service providers, carpet cleaners, house cleaners and garage door services. As for Canada, the badge is quite new and only available for locksmiths, plumbers and HVAC service providers.
How Does A Business Become Google Guaranteed?
Companies must pass various levels of screening that vary according to industry, country of practice and whether they advertise directly or with Google Partners. The process can be fairly overwhelming and can take anywhere from 3 to 4 weeks if a business owner is to apply on their own. Luckily, Mrkt360 is working with the head of the Google Guarantee Program and can help their clients drastically speed up the process.
What Does the Screening Process Entail?
1. Background Screening
Firstly, a third-party risk management company that is partnered with Google may complete a background check on the business entity, business owner and service professionals within the company. The background check varies according to the industry and country of practice, but may involve civil litigation history checks for the business entity in order to detect evidence of negligent performance of services and court history. This may also include screening the business owner(s) and/or service professionals via identity and criminal history checks, in addition to cross-checking against national offender, terrorist and sanction registries.
2. License and Insurance Screening
Google will also check whether all workers are properly licensed, if applicable. They will also check whether the business has the appropriate licenses needed for their city/county, province/state and/or country of practice. The business must also have general liability and insurance coverage if applicable to the industry and/or service.
3. Advanced Verification
Certain industries may also require advanced verification screening, which consists of an overall review of the Google Ads account, as well as any public data or video interviews conducted by Google. The screening could also involve looking into business registrations in search for fraudulent or misleading behaviour.
4. Reviews and Ratings Screening
Google has and will continue to check the reviews and ratings of each business routinely. Consistent negative feedback will result in lower rankings.
How Can Mrkt360 Help?
Google's screening process can be very tricky and difficult to pass. Individuals that try to apply on their own may come across some issues. For example, results may show that "Local Services ads aren't yet available in your area", when they in fact are. Fortunately, we know the strict guidelines on what NOT to do in order to prevent your company from being instantly rejected for the badge.
As previously mentioned, Mrkt360 is working directly with the head of the Google Guarantee Program at Google, and can ensure a smooth and quick application process for our clients in Canada and the United States. Mrkt360 has the tools and knowledge to guide you through the process and answer and questions along the way.
About Mrkt360: Mrkt360 is a Google Premier Partner digital marketing agency located in Vaughan, Ontario, Canada. They provide Google AdWords services, as well as SEO, SMM, SEM, Web Design and more. By leveraging their in-house artificial intelligence SEO platform, they have helped countless start-up companies grow into publicly traded companies. They received the Gold Prize in the Google Partners competition, ranking them number three in Canadian for new client revenue to Google.
If you would like to learn more about the Google Guarantee Program or digital marketing, please contact Mrkt360 Inc. at 1-888-215-0005 or email pr@mrkt360.com.