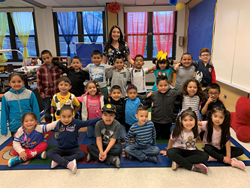 Day in and day out teachers work tirelessly to provide their students with a high quality education and COVID-19 has only made that harder.
NEW YORK (PRWEB) May 04, 2020
To kick-off Teacher Appreciation Week, DonorsChoose announced today that Google, as part of their broader celebration of teachers, has made a $2 million Google.org grant to the Keep Kids Learning program, an effort to support public school teachers and students as they continue learning from home during nationwide coronavirus-related school closures. The program provides funding credits that teachers can redeem for educational resources including books, basic supplies, art supplies, educational games and kits, and groceries for students who rely on school to provide meals. With this support, thousands of teachers will be able to have these resources shipped directly to students' homes while schools remain closed.
"Day in and day out teachers work tirelessly to provide their students with a high quality education and COVID-19 has only made that harder," said Jacquelline Fuller VP, Google and President of Google.org. "As longtime supporters of DonorsChoose, we are excited to contribute to their Keep Kids Learning campaign which honors the wisdom of teachers to know exactly what is needed by their students while out of school. This grant is part of our broader $10M Google.org Distance Learning fund which aims to help teachers and parents access resources to provide learning opportunities to children, particularly those from underserved communities during this crisis."
Over 4,000 public school teachers responded to a DonorsChoose survey in early March, in which 97 percent of teachers expected that coronavirus-related school closures would negatively impact students' learning this school year. Teachers estimated that 68 percent of their students did not have the proper resources to continue learning from home. To date, over 5,000 teachers have received funding through the Keep Kids Learning program.
"Like so many essential workers across the country, teachers are facing unprecedented challenges in providing instruction for their students, as well as the love and emotional support kids need to feel happy and safe," said Charles Best, founder of DonorsChoose. "We're so grateful to Google.org for helping us celebrate the start of Teacher Appreciation Week with such generous support for our teacher community and the Keep Kids Learning program."
Amanda Calzada, a kindergarten teacher from Chicago who also serves as a teacher representative to the DonorsChoose Board of Directors, was one of the teachers to receive a Keep Kids Learning grant backed by Google.org. "With my Keep Kids Learning grant, I was able to send my students pencils, crayons, picture books, watercolor paints, playdough, and educational games. I am incredibly grateful to Google.org for this support because this means my students will have the tools they need to make learning at home an engaging, effective, and exciting experience."
To support a teacher this Teacher Appreciation Week, please visit http://www.donorschoose.org. Learn more about the DonorsChoose response to coronavirus-related school closures at http://www.donorschoose.org/coronavirus-how-to-help.
ABOUT GOOGLE.ORG
Google.org, Google's philanthropy, supports nonprofits that address humanitarian issues and apply scalable, data-driven innovation to solving the world's biggest challenges. We accelerate their progress by connecting them with a unique blend of support that includes funding, products, and technical expertise from Google volunteers. We engage with these believers-turned-doers who make a significant impact on the communities they represent, and whose work has the potential to produce meaningful change. We want a world that works for everyone—and we believe technology and innovation can move the needle.
ABOUT DONORSCHOOSE
DonorsChoose is the leading way to give to public schools. Since 2000, more than 4.2 million people and partners have contributed $950 million to support 1.6 million teacher requests for classroom resources and experiences. As the most trusted crowdfunding platform for teachers, donors, and district administrators alike, DonorsChoose vets each request, ships the funded resources directly to the classroom, and provides thank yous and reporting to donors and school leaders. Charity Navigator and GuideStar have awarded DonorsChoose, a 501(c)3 nonprofit, their highest ratings for transparency and accountability. For more information, visit http://www.donorschoose.org.