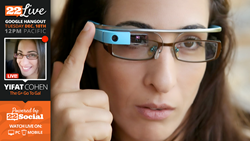 22Social empowers anyone to spread their message by providing simple, but powerful tools, along with knowledge to use them.
San Diego, CA (PRWEB) December 10, 2013
The G+ Go To Gal, Yifat Cohen, will be interviewed today by 22Live's host Rene Banuelos on a Google Hangout event, December 10 at 12 noon PST. Yifat will be discussing Google+ for business and the benefits of Google Hangouts.
Yifat Cohen is one of the very few non-Google employees who is asked by Google, to present Google+ and Hangouts to Google employees. She is often flown around the world to speak at various worldwide Google events. Yifat's talks are inspiring, engaging and provide her audiences best practices for engaging and monetizing their presence on Google. "She is considered a thought leader by Google, and we are proud to have her on #22Live for a candid, and unscripted discussion about G+ Hangouts and today's best strategies," says Rene.
The live event will take place today, Tuesday Dec. 10th at 12 noon PST.
► Join Event: http://www.fb.com/436332583135236
► Simulcast Info: http://bit.ly/1bjQTiV
#22Live allows attendees the chance to Hangout with successful & elite speakers, coaches, authors, entrepreneurs, marketers, business leaders, and more. Attendees get to learn about them, learn from them -- and for the first time, they can ask questions and interact with them live. By using 22Social's 22s App, anyone can syndicate the 22Live show on their Facebook page & mobile site.
About Yifat Cohen
She is one of the very few non-Google employees, who is asked by Google, to present Google+ and Hangouts to Google employees. She is often flown around the world to speak at various worldwide Google events.
Yifat has also been featured on Mashable, DataMation, The Rise to the Top, Diamonds in Your Backyard, Entrepreneur on Fire, and many more. She pushes Google's technologies to its limits, and creates best practices and strategies for today's business owners and entrepreneurs. Her clients include The Governor of Texas, Mashable Social Good Summit, Versus, and most recently Intuit to name a few.
As a Google Plus expert, Yifat Cohen is best known for developing engaging online communities for both new business owners and national brands. She is the go-to gal, Founder at G+GoToGal.
She was listed as No.1 Top Google+ Users Working as Google+ Marketing. She has also been voted as the Best Google+ user in 2011 by Google+ community, she's 286 on the Who's Who for Google+ and one of the top 1000 Google+ users in the world for 2012.
Yifat is a sought after speaker, strategist, and Google+ advisor. She enjoys teaching "How to Hangout", "How to optimize Google+", and ultimately, how to create predictable revenue streams with Google+ and social media.
About Rene Banuelos
Rene Banuelos was responsible for assembling an all-star team for 22Social. He oversees the various departments to insure that all is flowing in accordance to the company goals and that everyone is on the same page. Rene designed the software system behind what is now the 22s App. He is also responsible for developing and managing the company's strategic partnerships.
Rene has been programming since the age of 14 and started his first business at the age of 13. He earned his B.S. in Computer Science from the University of California, San Diego. He has over 10 years of professional software engineer experience including design and development of complex software systems for the telecom and defense industries. His diverse experience also includes over 4 years managing a team of financial services agents, real estate investing, internet advertising sales, network marketing, Facebook marketing education, Social Media marketing system design and more. The creation of 22Social has made it possible for Rene to pursue his three passions: business, marketing & technology.
About 22Social
22Social is a social tech start-up based in San Diego, California that is privately held and operated. It is comprised of a group of entrepreneurs; some seasoned, some fresh, but all passionate. They are engineers, programmers, designers, marketers, and dreamers. As a whole, they are committed to making a digital difference.
It is said that the number 22 holds more power than any other number, colorfully described as being capable of spinning wild dreams into concrete reality. They carry out the 22 manifesto by taking grandiose ideas back down to earth, and making them into something real that clients can feel and experience. 22Social accomplishes this by leveraging the latest social media technologies to create innovative, sensible solutions that can save brands, intuitions, and entire social tribes, from a pre-digital or social demise.
The 22 experience is focused on giving the end user a unique, simple, and progressive involvement with a brand. Their goal is to help clients attract, engage, entertain and convert their users.
Yifat Cohen
Google+: Yifat Cohen