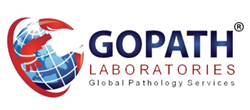 CHICAGO (PRWEB) September 06, 2018
GoPath Laboratories, a state-of-the-art CAP-accredited, CLIA-certified molecular diagnostic laboratory announced today that the American Medical Association (AMA) has assigned a new, discreet CPT (Current Procedural Technology) code to facilitate reimbursement of miR-31now®, the Company's proprietary miRNA-based molecular test which predicts the potential clinical benefits associated with anti-EGFR therapy for patients with RAS wild type (WT) metastatic colorectal cancer. The new code, 0069U, is associated with an official Descriptor which states, "Oncology (colorectal), microRNA, RT-PCR expression profiling of miR-31-3p, formalin-fixed paraffin-embedded tissue, algorithm reported as an expression score." This code was established following a review by the AMA's PLA Technical Advisory Group.
The establishment of the new 0069U code is a result of the AMA's PLA (Proprietary Laboratory Analysis) program which enables labs with distinct, single source Advanced Diagnostic Laboratory Tests (ADLTs) to apply for a discreet CPT code that can be utilized for billing payers for the test. This code is included in the revised set of PLA codes the AMA has released that supports the implementation of Section 216 of the Protecting Access to Medicare Act of 2014 (PAMA).
"We are pleased that the AMA has recognized the uniqueness of the miR-31now and has created a distinct PLA code for the test," stated Dr. Jim Lu, CEO of GoPath Laboratories. "Now that miR-31now has its own distinct billing code, the process of billing payers for the test will be more straightforward." Dr. Lu added that "GoPath is licensed in all States except New York and is ready to process samples and benefit patients with our tests."
The mir-31now test quantifies the expression of the miR-31-3p in formalin-fixed, paraffin-embedded (FFPE) tumor samples using standard quantitative reverse transcription PCR (RT-qPCR) [1]. miR-31now is the first positive theranostic test for patients with metastatic colorectal cancer (mCRC). A new paper recently published in Clinical Cancer Research confirms that the test predicts the potential clinical benefits associated with first-line anti-EGFR therapy compared to anti-VEGF therapy for patients with RAS wild type (WT) metastatic colorectal cancer [2].
ABOUT GOPATH LABORATORIES:
GoPath is a state-of-the-art molecular diagnostics laboratory offering anatomic pathology, hematopathology, and hereditary cancer testing services for clinicians, hospitals, and pharmaceutical firms. The company employs the latest molecular technology platforms including NGS, FISH, and microarray analysis to provide our clients with a better-defined diagnosis, personalized treatment options, risk prediction for cancer recurrence, and stratified immunoresponse in pharmaceutical research. GoPath Laboratories also offers comprehensive molecular genetic testing for breast cancer, colon cancer, melanoma cancer, and prostate cancer. GoPath takes pride in offering unparalleled TATs, exceptional customer service, and 24/7 access to reports.
For more information, visit http://www.gopathlabs.com | http://www.gopathgenetics.com
REFERENCES
1. Ramon L, David C, Fontaine K, et al. Technical validation of a reverse-transcription quantitative polymerase chain reaction in vitro diagnostic test for the determination of mir-31-3p expression levels in formalin-fixed paraffin-embedded metastatic colorectal cancer tumor specimens. Biomarker Insights. 2018. https://doi.org/10.1177/1177271918763357.
2. Laurent-Puig P, Grisoni ML, Heinemann V, et al. Validation of miR-31-3p expression to predict cetuximab efficacy when used as first-line treatment in RAS wild-type metastatic colorectal cancer. Clin Cancer Res. 2018 Aug 14. pii: clincanres.1324.2018. https://doi.org/10.1158/1078-0432.CCR-18-1324.