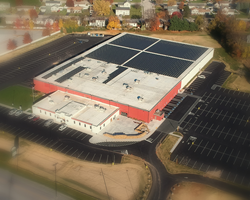 They certainly take care of you from beginning to end. Gordian Energy Systems was wonderful to work with. - Elizabeth Johnides, Partner, Markets At Hanover
HANOVER, Pa. (PRWEB) March 25, 2021
The family that owns The Markets at Hanover wanted to increase their commitment to an energy efficient, environmentally friendly building for their clients and customers. Part of a multi-faceted plan to create a green and energy efficient environment, the owners decided to engage with Gordian Energy Systems to design, build and commission a 702-kW solar array. The Gordian and Markets teams participated together in all elements of the plan all the way to turning the system on.
"I would absolutely do it again!" says Elizabeth Johnidas, co-owner of the Markets at Hanover. "Gordian Energy Systems was wonderful to work with. They certainly take care of you from beginning to end."
The solar array includes over 1,800 solar panels. By creating energy on site, the facility will essentially become a net-zero facility, meaning they will produce as much electricity as they consume. With stable, lower operating expenses and clean, renewable energy generated on site, the Markets is working create a positive impact for the Hanover, Pa. region.
About Markets at Hanover:
The Markets at Hanover is a family owned and operated Indoor Destination! The Facility features over 40 local independent merchants and eateries, occupying some 52,000 square feet. Founded by Elizabeth Johnides along with her partner and father, Joseph Silbaugh, Markets at Hanover provides a great dining and shopping experience for locals and visitors alike.
About Gordian Energy Systems:
Gordian Energy Systems is a solar PV Engineering, Procurement and Construction company servicing commercial and industrial customers from project inception, through construction and commissioning including full term operations and maintenance programs. Providing these services nationally on Rooftops, Canopies and Ground installations, Gordian is the trusted partner bringing quality solar projects to life.