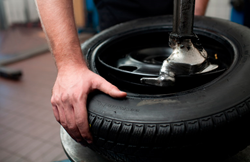 GREENFIELD, Wis. (PRWEB) May 24, 2021
Gordie Boucher Nissan, a dealership located in Greenfield, WI, is offering a Pothole Special service coupon to drivers in the Milwaukee area. For $169.95, drivers can receive a four-wheel alignment, a wheel balance, a tire rotation, a brake inspection and a multi-point inspection on their vehicle. The Pothole Special is a coupon available online to be printed out and brought to the dealership. The coupon will expire on June 30, 2021, which gives drivers over one month left to take advantage of this temporary offer.
Drivers who are interested in the Pothole Special are encouraged to visit the dealership's website, bouchernissangreenfield.com. Using the site's menu, drivers can navigate to the "Service Coupons" page under the "Specials" drop-down menu. On that page, drivers can find all of the current specials that are being offered by the dealership. As of today, May 24, 2021, the coupons include a brake pad and rotor replacement, $1 over cost tires, service bundles and battery replacement. All of the current offers will expire at the end of next month, but the dealership will likely adopt new service coupons for the following months. Drivers are encouraged to check back often for the latest maintenance specials.
Service coupons at Gordie Boucher Nissan cannot be combined with other offers. The coupons must be presented at the write-up. Some vehicle models will cost extra. Drivers can view business hours, contact information and location information for Gordie Boucher Nissan on the dealership's website.