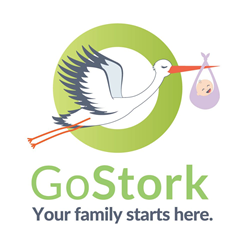 "I created GoStork to simplify the complex infertility marketplace by putting all of the information, offerings, and ability to filter by personal preferences in a single location." Eran Amir - Founder
NEW YORK (PRWEB) June 17, 2020
GoStork, a technology company that enables intended parents to find, compare, and connect with fertility providers throughout the country, has announced the expansion of its online platform to include surrogacy agencies. Designed to help intended parents select providers that best fit their needs and budget, the site is the only one of its kind to offer a comprehensive set of options, including well-organized, consistent information that affords greater transparency for the industry.
GoStork.com's original launch was in early 2020, beginning with a product enabling intended parents to find, compare, and connect egg donors from various donation agencies. There are now over 6,000 egg donors available on the platform – from various top agencies across the US. The recently added functionality of the surrogacy agency marketplace further expands the efficacy of the platform.
The new offering allows users to view comprehensive information about top surrogacy agencies and filter them by personal preferences. Each agency's profile includes clear cost breakdowns, as well as answers to the questions most commonly posed by intended parents, including:
-Year the agency was founded
-Number of babies born via their services
-Average time it takes to match parents with surrogates
-Average time from contract-signing to baby's birth
-Number of families simultaneously serviced by each surrogacy coordinator
-If services are offered to the LGBTQ community or international parents
A first-of-its-kind comparison tool then facilitates a side-by-side, point-by-point view of each agency's offerings. Users can also learn more about unique features of the agency and virtually meet executive staff and case managers via short videos.
Since some surrogacy agencies offer more services than others, intended parents can easily review their options, including the availability of:
-An in-house attorney
-Escrow management
-Case management and education
-Counseling and support
-Medical billing management
-Support in establishing parental rights
-Fertility loans provided by third party
The platform also addresses the type of carrier screenings undertaken by each agency, such as:
-Criminal background check
-Medical and psychological pre-screening
-Social worker pre-screening
-Financial review of household income and economic stability
-Appropriate health insurance coverage
-Home visits by agency
Understanding what others have experienced when working with each agency is critical to prospective parents' research. With this in mind, GoStork offers individual reviews by verified customers, as well as helpful overviews that average their ratings for:
-Length of time for the entire process
-Agency effectiveness and responsiveness
-How intended parents felt they were treated by agency staff
-Whether or not they would recommend the agency
Continuing GoStork's focus on accessibility and convenience, the platform features a booking system that makes it easy for intended parents to set up their initial appointment with the agency of their choice. Once scheduled, the feature instantly books the time on both parties' calendars. "I know from personal experience that when parents make the decision to expand their families via fertility providers, it's a confusing and overwhelming task to try to find the information they need," explains Eran Amir, company founder and CEO. "I created GoStork to simplify the complex infertility marketplace by putting all of the information, offerings, and ability to filter by personal preferences in a single location."
States Sam Hyde, president of Circle Surrogacy in Boston, Massachusetts, one of GoStork's launch partners, "The feature that impresses me the most about the GoStork platform is the transparency it provides for our industry. Selecting a surrogacy agency can be challenging, but thanks to GoStork intended parents can compare ratings, reviews and many other criteria across leading providers. I also appreciate the booking tool, which allows customers to make an appointment with us directly from GoStork."
Over the next several months, Go Stork will add IVF clinics, sperm donors, and adoption agencies to the platform's offerings.
About GoStork:
GoStork is the only online platform where intended parents can find, compare, and connect with egg donors, surrogacy agencies, and IVF clinics in a single process. GoStork leverages proprietary technology, paired with thorough human vetting, to establish and continuously expand the first-ever structured marketplace in the infertility industry. In doing so, GoStork creates much-needed transparency, reducing the amount of work and confusion people experience on their journey from infertility to parenthood. GoStork accomplishes this by featuring top fertility providers from across the country in one centralized location, enabling advanced searching and filtering by clients' preferences. It additionally allows the side-by-side comparison of detailed cost breakdowns, success metrics, customer reviews, and many other key criteria to support informed decision-making. The product further enables the direct booking of appointments with customers' preferred providers. GoStork works independently from any agency or clinic. For more information, visit GoStork.com or email contact@gostork.com.