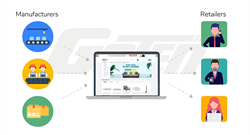 SHENZHEN, China (PRWEB) August 10, 2020
Shortly after an interview with Ebrun, in which ZongTeng Group CEO, Kabicy Wang put forward the idea of "New Infrastructure," came the most exciting news in cross-border e-commerce in China in the post-pandemic era. The leading cross-border e-commerce logistics company, GoTen's parent company has secured a total of 500 million yuan (over $70M) in Series C1 funding round. This is one of the world's most significant financing events in the cross-border industry in recent years, which will allow the group to develop its business worldwide, and propel GoTen's dropshipping service.
ZongTeng Group's $70M in Series C1 Funding Round
ZongTeng Group has successfully completed 2 funding rounds in the past two years, raising over 1 billion yuan in total.
This time, Taikang Insurance Group led the financing, which was followed by Xiamen C&D Inc., Zheshang Group, Fuzhou Financial Holding, Ancheng Capital, while China Renaissance played the role of exclusive financial consultant. The funding success is great proof that ZongTeng Group's businesses are considered promising, favored by investors.
Investment director in Taikang Asset highly recognizes ZongTeng Group, "ZongTeng Group is one of the most competitive enterprises in cross-border e-commerce logistics in China. It has set up a positive ecological cycle and high barriers to entry. With great potentials, ZongTeng will likely to stand out in the competition in the world."
China Renaissance Executive, Zhang Hui also indicates that through the funding, ZongTeng Group will further develop its service network and maintain its leading position in the cross-border industry with three core businesses, namely, overseas warehouses, international special lines, and e-commerce services.
More info about ZongTeng Group: https://youtu.be/r-PvJ7QgW5Q
Predominant Overseas Warehouses & Special Line Logistics
ZongTeng Group's current business scale is indispensable with visionary business plans and experience accumulated in the e-commerce business field since 2007. Early before the boom of special line logistics and overseas warehouses, in 2015 – 2016, YunExpress under ZongTeng Group managed to set up special line businesses extensively. Meanwhile, medium-sized and large-sized products began to go abroad.
Many problems have been exposed by the pandemic, among which is unstable delivery that makes ZongTeng Group's competitive advantages stand out. It is because placing the goods nearer to customers can better ensure satisfaction. In fact, few enterprises are like ZongTeng Group, which has excellent warehousing and special line logistics services in its portfolio. The solid foundation has made for its consecutive successes in funding, so as the latest one.
Further Development & New Opportunities for GoTen's Dropshipping Service
Nevertheless, all of the cross-border logistics giant's overseas warehouses exceed the full capacity amid the coronavirus spread. According to the head of the group, that's the reason why "New Infrastructure" will be the priority after weathering the crisis.
"After the pandemic, we will build new infrastructure, including new warehouses and a more widespread logistics network, trying our best to finish what should be done in the next 2 – 3 years within the next year or even next half a year. In particular, we'll complete and improve our e-commerce order fulfillment process, by targeting warehouse sorting, main transport routes, clearance capacity, and last-mile delivery after landing to provide better services to our customers." – Kabicy Wang
Undoubtedly, the 500 million funding success will fuel their pursuit of G2G (Global to Global) business objectives.
All ZongTeng Group's big customers, online sellers who transport goods with YunExpress and store them in their GoodCang overseas warehouses can seamlessly connect to GoTen Dropshipping Platform for more opportunities of product distribution.
Furthermore, an increasing number of dropshippers can benefit from ZongTeng Group's G2G strategy. They can take advantage of GoTen.com which offers top-selling profitable dropshipping products, fast and free delivery from overseas warehouses, 24/7 customer support to save warehousing costs, and logistics costs while ensuring maximum customer satisfaction.
The prosperity of cross-border e-commerce will come eventually as "New Infrastructure" springs up for a complete set of better e-commerce services.
GoTen.com is a professional dropshipping wholesale supplier under ZongTeng Group since 2007. It benefits from all ZongTeng's supply chain resources, including GoodCang, YunExpress, and WorldTech.
Since the launch of GoTen global site, GoTen Dropshipping Platform attracts thousands of visitors worldwide every day, registering considerable surges in sales with 20,000+ profitable SKUs. Additionally, based on big data-based research, its free product recommendations aim to make dropshipping easier on Amazon, eBay, Wish, Walmart, and other online marketplaces.
No membership fees, no credit card needed, only minutes to get started. GoTen makes it easier for everyone to launch and boost their online business.
More info about GoTen Dropshipping Platform: https://youtu.be/5OmgXhYUYXU
Contacts
Website: https://www.goten.com
For press: press@goten.com
For sales: support@goten.com
Company: Eteng Technology Limited