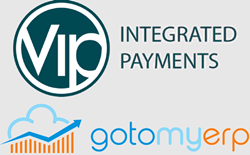 We are excited to announce this partnership with VIP Integrated Payments! With gotomyerp and VIP Integrated Payments QuickBooks and Sage 100 cloud EMV transactions and integrated payments just work with dedicated servers and resources between our two companies, said Mike Murphy, Marketing Director,
COSTA MESA, Calif. (PRWEB) October 07, 2020
QuickBooks and Sage cloud hosting provider, gotomyerp announces a strategic partnership with leading Sage integrated payments provider, VIP Integrated Payments.
This partnership offers the benefits of Cloud EMV, which allows the EMV transactions to be hosted in a cloud-based server. Accessing the terminal via web service supports more instantaneous updates.
One of the major advantages of Cloud EMV is that there is less software, and no transaction data sitting in the actual terminal. This simplifies the integrated payments data management process between QuickBooks and Sage 100 hosted in the cloud – and it has never been easier.
Access all your materials anytime with the power of secure cloud hosting.
About gotomyerp:
gotomyerp is an international leader in fully managed cloud hosting, specializing in QuickBooks, Sage, SAP, and all related third-party integrations. Our global support and infrastructure allow customers from micro to enterprise, and each customer is provided with their own private network, and computing resources. Nothing shared, ever.
About VIP Integrated Payments
VIP Integrated Payments is the preferred payment solutions provider for any US & Canadian based business. By integrating VIP within your company, they can help increase cash flow, streamline payment processing, and reduce processing fees. Accept payments anytime, anywhere, with the power of payment options.