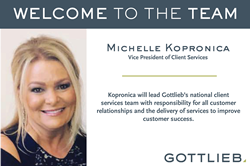 "I am excited to join Gottlieb and help continue to transform, grow and improve the company's service offerings," said Michelle Kopronica, vice president of client services.
JACKSONVILLE, Fla. (PRWEB) August 03, 2020
Gottlieb, a leader in end-to-end revenue cycle management and practice optimization solutions, is pleased to welcome Michelle Kopronica as their new Vice President of Client Services. Kopronica brings over 25 years of Emergency Medicine experience and a wealth of practice management knowledge in leading and developing teams and delivering client-focused solutions. In this role, Kopronica will lead Gottlieb's national client services team with responsibility for all customer relationships and the delivery of services to improve customer success. She will report directly to President, Craig Radulovich.
"Michelle is a highly focused professional with an incredible depth of experience in building client success programs. Her operational excellence will be of tremendous benefit to Gottlieb and the clients we serve," said Gottlieb President, Craig Radulovich.
Most recently, Michelle was the Associate Vice President of Client Services at MedData, where she grew a diverse and successful Client Service team devoted to the unique challenges of Emergency Medicine, Hospitalist Medicine and various other medical specialty groups. In addition to practice management, Michelle has advocated on behalf of Emergency Medicine physicians through her affiliation with ACEP and EDPMA, as well as, various regional chapter affiliates.
"I am excited to join Gottlieb and help continue to transform, grow and improve the company's service offerings," said Michelle Kopronica, vice president of client services. "I look forward to being part of a strategic and innovative team with an exceptional focus on client service."