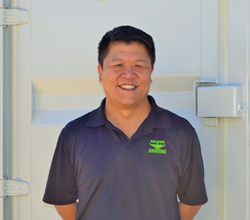 It's an enormous sign of progress for a member of the shipping container-building industry to literally have a seat at the table, said Shang.
AUSTIN, Texas (PRWEB) January 21, 2019
On February 1, Stephen Shang, CEO of Falcon Structures will join the Texas Industrialized Building Code Council. Governor Abbot appointed Shang alongside nine other Texans to serve on the council which oversees the state program regulating industrialized housing and buildings. Shang was nominated by Texas state senator and former mayor of Austin, Kirk Watson. As the CEO of Falcon Structures, a leader in shipping container-based building, Shang believes his nomination is a landmark moment for his industry.
"It's an enormous sign of progress for a member of the shipping container-building industry to literally have a seat at the table," said Shang , "I hope my insight will make building with containers safer and easier for Texas developers."
The Industrialized Building Code Council oversees the Industrialized Housing and Buildings (IHB) Program within the Texas Department of Licensing and Regulation (TDLR). The IHB program regulates publicly accessible modular buildings - structures assembled from modules built in an offsite facility.
The Texas IHB program was formed to find safe and sensible ways to permit modular buildings. Building code inspectors are required to review each phase of construction. This is impossible when modules utilizing closed construction arrive at the construction site. The Industrialized Building Code Council will determine policies and approval strategies for modular building permitting, such as factory inspections.
Shang thanks Governor Abbot for appointing him, Senator Kirk Watson for nominating him, and Roland Brown, the chair of government affairs at the Modular Building Institute (MBI), for mentoring him.
"I wouldn't have this opportunity if Governor Abbot, Senator Watson, and Roland didn't put their faith in me. I'm honored to serve at this critical time when the construction industry is rapidly moving toward modular building," said Shang.
About Falcon Structures
Founded in 2003, Falcon Structures repurposes steel shipping containers into AC462 code-compliant modules for container-based buildings, as well as single container structures for living, working and storage. Falcon has manufactured container buildings of all sizes including the largest shipping container structure in the United States to date, the 122-container stadium, Fortress Obetz. Falcon's growing client base includes major energy corporations such as Energy Transfer and Duke Energy, defense contractors, construction firms and all branches of the US military.