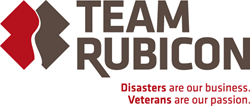 "This generous donation will put more volunteers in the field and more homeowners one step closer to normalcy. It's companies like GovX that allow Team Rubicon's impact to grow and positively affect more natural disaster survivors." - Art delaCruz, COO
SAN DIEGO (PRWEB) November 09, 2018
A fundraising effort organized by GovX, the online shopping site exclusively for current and former military and first responders, raised over $24,000 for the disaster relief organization Team Rubicon.
The CrowdRise fundraiser lasted for three months, and drew donations from members of the GovX community - people with service-related backgrounds in every branch of the US Armed Forces, law enforcement, firefighting, and emergency responder departments across the country. One randomly chosen member of the GovX community who donated at least $10 to Team Rubicon won a $5,000 GovX shopping spree.
"Team Rubicon is thankful for the support from GovX and the GovX community," said Art delaCruz, COO at Team Rubicon. "This generous donation will put more volunteers in the field and more homeowners one step closer to normalcy. It's companies like GovX that allow Team Rubicon's impact to grow and positively affect more natural disaster survivors."
As a veteran service organization, Team Rubicon deploys response teams comprised mostly of individuals with military and first responder backgrounds. The organization seeks to provide veterans and former uniformed professionals with the purpose, community, and identity they gained during their time in active service. By joining a new mission, many veterans regain a sense of belonging through their commitment to service and passion for helping others.
Founded by US Marine Corps veterans William McNulty and Jacob Wood in 2010, Team Rubicon has over 90,000 volunteer members, or "Greyshirts" who stand ready to deploy wherever natural catastrophes and humanitarian crises occur. Since 2010, they have deployed on over 300 responses, including recently to the Carolinas following the devastating impact of Hurricane Florence in September. Team Rubicon is currently operating an Emergency Medical Team in the Northern Mariana Islands assisting survivors of Super Typhoon Yutu.
"We knew that the GovX community would enthusiastically support this incredible veteran-powered response team," said Alan Cole, GovX CEO. "But our members' compassion for veterans and their fellow Americans exceeded our expectations. It was truly amazing to see our community step up in the way that they did to support Team Rubicon."
The fundraiser was the inaugural effort of GovX Gives Back, a new phase of GovX's support for veterans and uniformed professionals. The GovX community has a four-year history of supporting military and first responder nonprofits. With the support of members, GovX has donated over $200,000 to organizations such as the National Law Enforcement Officer's Memorial Fund, National Fallen Firefighter Foundation, Iraq and Afghanistan Veterans of America, and many others.
GovX's current fundraiser benefits Homes For Our Troops, the nonprofit that builds specially adapted custom homes and donates them mortgage free to severely injured post-9/11 veterans. Interested GovX members can donate here for a chance to win a trip to Las Vegas.
ABOUT GOVX
GovX.com is for the men and women who protect our country and communities. The members-only eCommerce site offers thousands of products from hundreds of premium brands at exclusive, below-retail pricing. Eligible members include active and veteran U.S. military, firefighters, law enforcement officers and federal agents. Membership is free and more information can be found at http://www.govx.com.
ABOUT TEAM RUBICON
Team Rubicon unites the skills and experiences of military veterans with first responders to rapidly deploy emergency response teams. Team Rubicon is a nonprofit organization offering veterans a chance to continue their service by helping those affected by disasters, and also themselves. Programs and services are made possible by the support of individual donors, corporate partners, and the dedication of volunteers across the country. To join or support Team Rubicon's mission, visit http://www.teamrubiconusa.org.