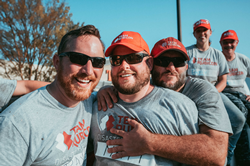 "We're proud to rally the GovX community in donating to this impressive disaster response team, and we're honored to continue our ongoing partnership." - Alan Cole, GovX CEO
SAN DIEGO (PRWEB) September 17, 2019
A fundraising effort organized by GovX—the online shopping site exclusively for current and former military, first responders, and federal employees—has raised $5,600 for Team Rubicon, the veteran-founded disaster response team that deploys globally wherever disaster strikes.
The GovX community raised the funds with individual purchases of the newest entry in the Patch of the Month series, a special limited-edition patch dedicated to American military airpower. Proceeds from the patch were donated to the nonprofit after being on sale during the month of August.
Founded by US Marine Corps veterans William McNulty and Jake Wood in 2010, Team Rubicon is an international non-government organization (NGO) and veteran service organization that deploys disaster response teams around the world following natural catastrophes or humanitarian crises. In the last year, Team Rubicon has completed 76 field operations around the world and deployed 2,614 "Greyshirt" volunteers. Reconstruction operations are still ongoing after the impact of hurricanes Irma and Harvey in 2017, and most recently, Team Rubicon volunteered to help deal with the heavy rain and mudslides that struck Riverside County in Southern California.
"Team Rubicon is a dedicated example of Americans helping Americans," said Alan Cole, GovX CEO. "We're proud to rally the GovX community in donating to this impressive disaster response team, and we're honored to continue our ongoing partnership."
In addition to deploying around the USA and to disaster zones around the world, Team Rubicon seeks to provide its members who previously served in the military with the purpose, sense of community, and identity they experienced and enjoyed during their time on active duty. By joining a new mission, many veterans regain a sense of belonging through their commitment to service and passion for helping others. Team Rubicon recognizes that among the 22 million military veterans currently living in the US, their unique skills and experiences make them a valuable American natural resource.
"At Team Rubicon, we have a bias for action," said Art delaCruz, President & COO at Team Rubicon. "Support from companies like GovX allow us to relentlessly pursue our mission and provide relief to those with the greatest need following a disaster or humanitarian crisis in the U.S. or around the world."
If you are interested in learning how you can volunteer and be of service with Team Rubicon, visit their volunteer page for more information.
Read stories of Team Rubicon's impact around the globe.
About GovX
GovX.com is for the men and women who protect our country and communities. The members-only eCommerce site offers thousands of products, tickets and travel services from hundreds of premium brands at exclusive, below-retail pricing. Eligible members include active and veteran U.S. military, firefighters, law enforcement officers and federal agents. Membership is free and more information can be found at GovX.com.