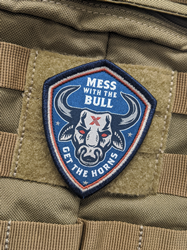 "We're thrilled to see GovX members embrace the Patch of the Month program to help fund valuable services offered to the men and women who keep our country and communities safe." - Alan Cole, GovX CEO
SAN DIEGO (PRWEB) January 16, 2020
Setting a new company record for charitable contributions in a year, GovX, the online shopping site exclusively for Americans of service, raised and donated over $75,000 to nonprofits serving military, first responders, law enforcement professionals, and the families who support them.
Organizations the GovX community supported in 2019 include:

Workshops for Warriors – A veteran-powered machining and manufacturing school that aims to reignite the fire of American industry.
Active Valor – A nonprofit manned by passionate combat veterans who mentor Gold Star Children, the sons and daughters of fallen American servicemembers.
Team Rubicon – The global disaster response team comprised of American military veterans and first responders.
FirefighterAid – The nonprofit that cares for firefighters and their families in distress and advocates for firefighter health nationwide.
COPS (Concerns of Police Survivors) – Aims to rebuild the shattered lives of survivors and co-workers affected by line of duty deaths.
Green Beret Foundation – Supports the Army's special forces and connects them and their families to the right resources to prosper and thrive.
IAVA (Iraq and Afghanistan Veterans of America) – Lobbies on behalf of post-9/11 veterans for healthcare benefits and offers 1-on-1 case management support
National Law Enforcement Officers Memorial Fund – Tells the story of American law enforcement, honors the fallen, and aims to make the job safer for those who serve.
Individual sales among GovX community members of the Patch of the Month series fueled the 2019 charitable efforts of GovX Gives Back. Each month offered a new entry in the originally designed collection, with proceeds from each sale supporting individual foundations every month.
"The Patch of the Month series is a unique advocacy platform that allows GovX members to show their support for the various organizations working on behalf of the military, law enforcement and firefighting communities," said Alan Cole, GovX CEO. "These nonprofits and Veterans Service Organizations work hard every day to support the brave Americans and their families serving in our neighborhoods around the world. We're thrilled to see GovX members embrace the Patch of the Month program to help fund valuable services offered to the men and women who keep our country and communities safe."
The Patch of the Month collection continues into 2020. The first patch of the year is on sale now and supports the Navy SEAL Foundation, which honors and supports members of the US Navy's special warfare community and their families.
About GovX
GovX.com is for the men and women who protect our country and communities. The members-only eCommerce site offers thousands of products, tickets and travel services from hundreds of premium brands at exclusive, below-retail pricing. Eligible members include active and veteran U.S. military, firefighters, law enforcement officers and federal agents. Membership is free and more information can be found at GovX.com.