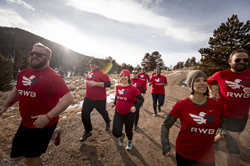 "Partners like GovX allow Team RWB to challenge veterans and show them that their best days are ahead of them." - Mike Erwin, Executive Director of Team RWB
SAN DIEGO (PRWEB) August 11, 2020
A fundraising effort organized by GovX, the online shopping site exclusively for current and former military and first responders, has raised over $5,700 for Team Red White & Blue, the nonprofit that enriches the lives of American military veterans by connecting them to their communities through physical, social, and volunteer activity.
Individual sales of the July "Unite or Die" Patch of the Month fueled the fundraising effort. Proceeds from over 1,200 sales contributed directly to Team RWB's ongoing programming in support of the veteran community.
With over 200 chapters nationwide and more than 200,000 members, Team RWB is one of the fastest growing veterans' organizations in the country. The organization supports the overall health and wellness of veterans. Through consistent and inclusive virtual and in-person activities, whether it's a run, functional fitness workout, biking, yoga class, community service, or a meet up over coffee, Team RWB's activities facilitate veteran engagement that result in genuine relationships creating resilience.
"We're especially proud to once again support Team Red White & Blue," said Alan Cole, GovX CEO. "We know the challenges Veterans face as they transition to civilian life and having organizations like Team RWB support them is invaluable. I'm honored the GovX community backed this mission in such a meaningful way."
Approximately 30% of Team RWB members are civilians, reducing the divide that exists between the military and the public whom they serve. Team RWB events seek to establish dialogue and interaction between veterans and civilians to find common ground.
"Team RWB is grateful for the support GovX and customers have shown for our nation's veterans through the Patch of the Month campaign," said Mike Erwin, Executive Director of Team RWB. "Partners like GovX allow Team RWB to challenge veterans and show them that their best days are ahead of them."
During the ongoing COVID-19 pandemic, Team RWB continued to build the veteran community through virtual workout challenges designed to promote fitness and healthy living. This month, the mission continues with the Open Road Challenge, encouraging veterans and supporters to get active, take on new local adventures, and stay connected virtually.
Sign up here to become a member of Team RWB or download the Team RWB App.
To find a Team RWB chapter located near you, click here.
About GovX:
GovX.com is for the men and women who protect our country and communities. The members-only eCommerce site offers thousands of products, tickets and travel services from hundreds of premium brands at exclusive, below-retail pricing. Eligible members include active and veteran U.S. military, firefighters, law enforcement officers and federal agents. Membership is free and more information can be found at GovX.com.