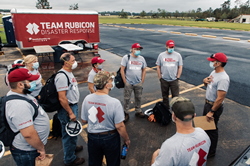 "As the pandemic raged on, Team Rubicon volunteers didn't lose any momentum," - Alan Cole, GovX CEO
SAN DIEGO (PRWEB) November 19, 2020
A fundraising effort organized by GovX—the online shopping site exclusively for current and former military, first responders, and federal employees—has raised $6,623 for Team Rubicon, a veteran-founded disaster response organization that deploys globally wherever disaster strikes.
The GovX community raised the funds with individual purchases of the October entry in the Patch of the Month series. The limited edition "Death Before Dishonor" patch sold out on GovX.com.
Co-Founded by US Marine Corps veteran Jake Wood in 2010, Team Rubicon is a veteran-led international non-government organization (NGO) that deploys volunteer disaster response teams around the world following catastrophes or humanitarian crises.
During the ongoing COVID-19 crisis, Team Rubicon has faced one of their toughest challenges yet. Responding across the country as the virus spread, Team Rubicon facilitated Coronavirus testing, meal distribution, emergency medical relief, and resupplies for communities in need. And even during the pandemic, Team Rubicon "Greyshirt" volunteers continued their regular responses to storms affecting the United States. Team Rubicon volunteers remain on the ground in communities along the Gulf Coast impacted by the 2020 hurricane season.
"As the pandemic raged on, Team Rubicon volunteers didn't lose any momentum," said Alan Cole, GovX CEO. "On the contrary, during this immense national challenge, the Greyshirt volunteers ramped up their efforts to help American communities in need. We're proud to once again support their mission."
In addition to deploying around the USA and to disaster zones around the world, Team Rubicon seeks to provide its members, most of whom previously served in the military, with the purpose, sense of community, and identity they experienced during their time on active duty. Through having a new mission and their commitment to service, many veterans regain a sense of belonging to their communities. Team Rubicon recognizes that the 22 million military veterans currently living in the US are a valuable resource who have skills and experiences that make them qualified to respond to disasters at home and around the world.
"The support GovX has provided Team Rubicon has gone beyond just an investment in our mission, but helped increased awareness, amplification and recruitment of new volunteers," said Brian Calcagno, Associate, Team Rubicon Partnerships.
If you are interested in learning how you can volunteer and be of service with Team Rubicon, visit their volunteer page for more information.
Read stories of Team Rubicon's impact around the globe.
About GovX
GovX.com is for Americans of service. A members-only online destination for military and first responders, the site offers thousands of products from hundreds of brands at exclusive, below-retail pricing. Members include active and veteran U.S. military, firefighters, law enforcement officers, federal agents, and personnel from related government agencies. For more information, visit GovX.com.