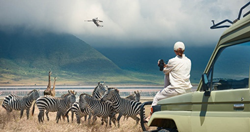 Passengers on the Explore Tanzania also get to meet the local women of the Masai and learn about the local initiatives they organize and oversee.
GLENDALE, Calif. (PRWEB) January 31, 2020
Demand for small-group travel exclusive to women is on the rise. Goway Travel is responding to that call with a unique range of women's only tours, reaching from beautiful Cape Town to exciting Dubai.
The series comprises four women's small group itineraries showcasing popular Africa destinations and experiences. Explore Southern Africa showcases Kapama Private Game Reserve, on the edge of Kruger National Park, plus the sights, colors and culture of Cape Town, before ending with a spectacular visit to Victoria Falls. Explore Tanzania is a round-trip women's safari from Arusha that visits Ngorongoro Crater and Serengeti National Park. Passengers on this tour also get to meet the local women of the Masai and learn about the local initiatives they organize and oversee.
The most specialized itinerary in the series tackles one of Africa's most prominent wonders. The Kilimanjaro Climb – Machame Route takes participants to the top of the world's highest free standing mountain, following one of the most picturesque routes before descent. Finally, Explore Dubai erases any notions of Middle East travel being unsafe for women while celebrating the Dubai both old and new. In addition to city tours, it includes a side trip to Abu Dhabi, and a 4x4 desert safari culminating in a traditional BBQ dinner under the stars.
With departures throughout 2020, these special women's itineraries are complemented for a limited time with special offers. Solo travellers booking Explore Southern Africa by February 7 or Explore Tanzania by March 31 will save the usual single supplement charge, while Goway is offering a US $250 saving on Explore Dubai until March 1, 2020.
Since 1970, Goway has been providing unforgettable travel experiences to Africa, Asia, Australia, New Zealand, Central & South America, Idyllic Island destinations and Europe. Today Goway is recognized as one of North America's leading travel companies for individuals, families and groups to select exotic destinations around the globe. Goway has offices in Toronto, Vancouver, Los Angeles, Manila, and Sydney, Australia.
For reservations and information, visit http://www.goway.com, or call 1-800-387-8850.