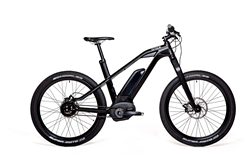 The Grace MX II is spectacular to look at and to ride. The technology and style have made this one of the most popular bikes in the world and that's why we've had so much interest from both consumers and from dealers here in the USA
Las Vegas, NV (PRWEB) July 07, 2014
Grace Electric Bikes are renowned in the industry for their style and design as well as for their efficiency and superior performance. The Grace MX II has been referred to in electric bike review forums as "the coolest looking Urban bike on the planet." Now the Grace MX II is available in the U.S. through a growing network of dealers and online at: http://gracebikesusa.com.
Demonstration Grace MX II electric bikes will be on display at Interbike 2014 at booth #32160 on September 10 through 12th at the Mandalay Bay Convention Center, Las Vegas, Nevada.
"The Grace Bikes' bikes are built to German automotive standards that achieve the highest results in independent test period. We look forward to offering this quality here in the states for our consumers," said Mike Page, sales director at Grace Bikes USA.
"The Grace MX II is spectacular to look at and to ride. The technology and style have made this one of the most popular bikes in the world and that's why we've had so much interest from both consumers and from dealers here in the USA," said Page.
The MX II Urban comes standard with the Grace rigid fork with an option to upgrade to an easy-to-adjust Rock Shox Domain fork. This includes the Gates Carbon drive paired with NuVinci 360 technology integrated directly into the Bosch Unit. This makes the Grace MX II Urban a great choice for riding on paved roads.
The Grace MX II Trail comes with a Rock Shox Sektor Gold RL with 140mm of travel. This comes standard with off-road Continental Mountain King tires, and a SRAM X9 chain drive system. This makes this bike a great choice for off-road riding.
Grace Bikes USA has partnered with premium dealers for retail sales, customization and support. To find a dealer near you, please contact Grace Bikes USA at 480-320-3813.
To order Grace bikes online or request to become an authorized dealer of Grace Bikes USA, please visit: http://gracebikesusa.com.
About Grace Bikes USA
Michael Hecken and Karlheinz Nicolai have worked together to begin a transformation in the electric bike industry since 2009. The award winning Grace Electric Bikes are exclusively distributed in the United States, Canada and Mexico through Grace Bikes USA. Bike Dealers are encouraged to inquire about opportunities to become an authorized dealer. For more information about retailing in your area, please contact Grace Bikes USA at 480-320-3813.