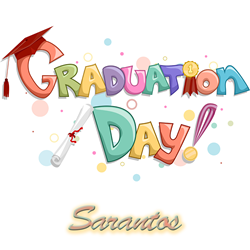 He always told me - no matter what you go through in your life, no one can take your education away from you!
Park Ridge, IL (PRWEB) May 09, 2017
Sarantos Releases A Music Video For The Newly Released Rock Funk Song "Graduation Day."
One of the most memorable days for anyone is their Graduation Day. Whether it's grammar school, high school, college or even professional school, it's a proud moment. Graduating earns you a diploma but also something more - a sense of pride and satisfaction that all the hard work you put in paid off.
School is tough. Maybe when one gets older they forget just how difficult it was to juggle expectations from parents, teachers, friends and keep it together. This new music video has one purpose and one purpose only. Even though the song is titled Graduation Day, the sole purpose is showing just how tough school can be on kids. This rock funk song channels a happy vibe with an undercurrent of R&B emotion. The music video is an honest video about a college grad. It's not all fun and partying. Life never is, is it?
"This funky rock song is about your graduation day," says Sarantos. "My parents were immigrants from Greece and though my dad worked like a dog, there was only ever one goal for him for me and my sister - education. He cherished every graduation I ever had, even grammar school! I'll never forget the beam in his eyes as he sat there proudly. My dad never bragged or talked incessantly about his kids. But I'll be honest, seeing him smile (and have a day off) on my graduation days were some of the happiest moments in my life. I knew how much it meant to him and that there was nothing he valued more. Money didn't matter. Fame didn't matter. He always told me - no matter what you go through in your life, no one can take your education away from you! So of course, I just had to make the music video really not focus on the glorious happy day and celebration but instead show what it took to get there, all the hard work you put in to get to that stage and get that diploma. There's even a hidden reference to the Greek school that my parents made me go to during grammar school!"
Sarantos and fans chose this charity for this song - The Marine Graduation Foundation. They provide support, information and services to Marines and their family & create opportunities for the public to support our troops through the organization's outreach program.
Sarantos' unique sound has been best described by industry insiders as an "emotionally powerful vocal style masterfully united with music that is a fusion of classic '80s rock blended with modern soft rock and pop music."
Since 2014, Sarantos has won over 36 awards with Akademia LA Music and Beat 100, while also being nominated for the International Music & Entertainment Awards and the Hollywood Songwriting Awards. Even without ever using a professional music studio, label, ad agency or radio promoters, "Dreamer" & "What If I Never See You Again" have spent many months in the top 200 on the majors list in the US for radio airplay according to the Digital Radio Tracker Top 200 charts. On the independent charts, Sarantos has hit the top 10 twice.
*Because Sarantos wants music shared throughout the world, fans can always find downloadable songs, lyric sheets, videos and books on the website. Fans can sign up for the email list to get the inside scoop first and exclusive content available nowhere else.
Facebook: http://www.facebook.com/Sarantosmelogia
Spotify: https://play.spotify.com/artist/0fSzbfDxSHL10T1ryPsRLQ