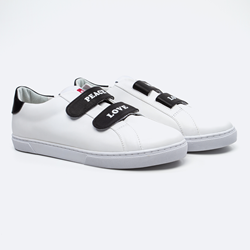 NEW YORK (PRWEB) April 28, 2021
Sustainable footwear company Twins For Peace, through its social impact initiative, is pleased to announce a collaboration with My Good and its founder, Grammy award-winner Macy Gray, on a limited edition series of sneaker releases. Macy Gray co-designed each pair of shoes, scheduled to be released in April, and for every pair of sneakers purchased, Twins For Peace will donate a percentage of the proceeds to My Good to help families who have lost loved ones to police brutality.
After receiving an invite to a My Good benefit Nana Baffour, Executive Chairman of Twins For Peace emotionally connected to the stories of family members left to pick up the pieces after losing loved ones to police brutality. Immediately, Mr. Baffour decided to take action. He explains, "As a Black man and a father of a Black son, the issue of police violence strikes a personal chord with me and I am proud that through Twins for Peace, we can partner with Macy Gray and the wonderful people at My Good to impact this great cause through financial support and sustainable footwear." Twins For Peace has worked with NGOs in Colombia, Cameroon, Mozambique, India, Haiti, Mali, Senegal and is excited to begin humanitarian initiatives in the United States with this timely Soles To Souls collaboration with My Good.
The families who have lost loved ones to police brutality suffer emotionally and financially with many families seeking answers and never receiving justice. My Good was founded with these families in mind, by providing long-term financial, grief support, and mental health services. After the media coverage goes away and a new family experiences a loss, the families impacted will continue to suffer throughout their lives with many often feeling forgotten. The collaboration between My Good and Twins For Peace is an effort to bring social awareness and offer long-term support for the families directly impacted. Everyone can get involved by wearing and supporting our products. This will allow My Good and Twins for Peace to keep the families of police brutality uplifted, supported and reminded that they are not alone. Every step we take will bring us closer together and help a family in need and heal as we walk in peace.
"I have always been a fan of sneakers and partnering with Twins for Peace was a no-brainer, their values soulfully align with My Good" said Gray. "This collaboration is an effort that will benefit families in need, as well as draw attention to the incredible work Twins for Peace does worldwide. While on the road and even during this past year where comfort is key, sneakers have been a staple in my wardrobe and it was an honor to be able to help design this collection that is not only fashion-forward, but gives back in such a humanitarian way."
The objective of Soles To Souls is to encourage people to walk in peace and consciously use the soles of Twins For Peace's shoes to touch the souls and hearts of others. While much needed attention has been paid to the impact of police violence on communities of color, police brutality is not only experienced by people of color, everyone could potentially have a negative encounter with law enforcement making police brutality a national issue.
"Twins For Peace and My Good created the collaboration to offer the opportunity to shop with a purpose, connect to humanity and encourage everyone to make a change through voting and getting involved in the community and local government," says Max Mussard founder and designer of Twins For Peace. "Each shoe tells a story and carries with it the care and affection of those who built it. When you support the collab 'TFP + My Good: From Soles to Souls,' you are also part of this virtuous cycle of humanitarian values and sustainability that certainly helps people in need."
About Twins For Peace (Paris)
Created in 2009 by the twins Maxime and Alexandre Mussard, the French brand Twins For Peace was born to promote humanitarian values ​​through its shoes. In 2018 the brand was incorporated into the global group NVH Studios to make it a lifestyle brand and, at the same time, invest consistently in countries affected by poverty through the creation of long-lasting solidarity projects. Since 2009, the company has donated the equivalent amount of more than 15,000 shoes through the "Be COOL, Be GOOD" initiative and continuously invests in the least developed countries' health and education systems. In 2011 and 2014, Twins For Peace partnered with the Gol de Letra Foundation, founded by the soccer player Raí.
About My Good (Los Angeles)
My Good is a 501(c)3 nonprofit founded in July 2020 by artist Macy Gray, along with Charyn Harris and Grace Blake to support families who have lost an immediate family member due to police brutality. The heart of the mission is to ensure that families receive the much-needed emotional, educational, and financial support as they navigate the aftermath of their loss.
Production Process
To guarantee the sustainability of the products, Twins For Peace sought material inputs with little environmental impact. The soles of the shoes are made with 50% natural rubber, extracted from rubber trees, whose raw material has zero CO2 emissions into the atmosphere and provides resilience, elasticity, and comfort; and 50% recycled rubber, from the reuse of materials that would take years to decompose in nature and which, when transformed, add resistance and durability to the footwear.
PRESS CONTACTS:
Jasmine Blandford & Gail Powell
press@gbrandmanagement.com
646-517-3107
https://twinsforpeace.com/
MY GOOD
Suzie Cornell & Wendy Zipes Hunter
suzie@prana-pr.com
wendyzipeshunter@prana-pr.com
https://mygood.org
Instagram:
@twinsforpeace
@mygooddotorg
https://www.facebook.com/mygooddotorg/
https://www.facebook.com/TWINSFORPEACEofficial/
#SolesToSouls