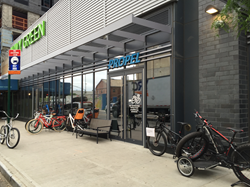 My hope is that our grand opening and future events will encourage face-to-face interaction with the members of our community.
BROOKLYN, NY (PRWEB) June 23, 2015
When Propel's owner, Chris Nolte, is asked "Aren't electric bikes illegal in New York City?", he clarifies, "This is only a half-truth. New York City Local Law 40 deems throttle activated electric bikes as motorized scooters. Because they can't be registered, their use is prohibited." The law states, "The term 'motorized scooter' shall mean any wheeled device that has handlebars, that is designed to be stood or sat upon by the operator, is powered by an electric motor, or by a gasoline motor, that is capable of propelling the device without human power, and is not capable of being registered with the New York State Department of Motor Vehicles."
Chris explains, "This law makes throttle activated bikes illegal, but purposely leaves room for pedal activated bikes, which require human power to engage the motor. All of our bikes are pedal-activated, or more commonly referred to as pedal-assist. This is the same standard in most European countries where electric bikes have gained widespread approval. Currently, one in three bicycles sold in Germany and the Netherlands are electric assist." In order to promote safe electric bike operation, the team at Propel spends a lot of time providing education to cyclists and ebike delivery workers regarding abidance of NYC laws and proper cycling etiquette. Propel intends to host additional educational classes to continue the promotion of legal and safe riding in New York City.
Conveniently located along the Brooklyn Greenway Initiative Bike Path, Propel serves many of the thousands of cyclists who pass by each day. Visitors are often surprised by the vast selection of quality ebike brands that Propel carries. Propel is a dedicated agent for multiple brands including Specialized, Felt, Raleigh, Haibike, Stromer, Xtracycle, Faraday, Lapierre, and Easy Motion. Propel is the exclusive New York distributor for Focus and Kalkhoff, two of the leading European ebike brands made in Germany.
Propel Electric Bikes sets out to celebrate the grand opening and the establishment of a new bike culture that applies modern technology to increase the accessibility and utility of cycling. Electric bikes are the embodiment of environmentally friendly transportation. With the introduction of ebikes, cargo bikes, and other unique solutions, Propel hopes to greatly reduce dependence upon automobiles and public transportation. Chris elaborates, "I frequently pass by neighbors on their cargo bikes, either transporting their kids to school or stocking up on groceries, and I think to myself, 'electric-assist could be of great use in these scenarios.'My hope is that our grand opening and future events will encourage face-to-face interaction with the members of our community. Together, we can improve the many issues that plague our transportation system today."
To learn more about Propel Bikes' history, please visit Our Growth.