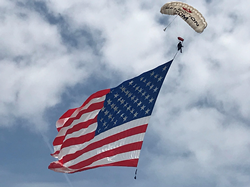 MADISON, Ill. (PRWEB) August 23, 2019
Starting on Friday, August 23, 2019, the third annual NTT IndyCar Series Bommarito Automotive Group 500 presented by Axalta and Valvoline is a weekend-long event featuring two days packed with non-stop action and family fun at the World Wide Technology Raceway at Gateway. Whether you're a racing fan or enjoy having a good time, there is something for everyone during this racing weekend.
On Saturday, August 24, 2019, Team Fastrax™ will wow the spectators with their fan-favorite flag demonstration jump as part of the Bommarito Automotive Group 500 pre-race show. The skydivers will jump in with a 2,000 sq. ft. American flag. Their performance is quite the sight to behold.
"We are honored to be performing during such an exciting weekend at the World Wide Technology Raceway," commented John Hart, owner of Start Skydiving, and Founder of Team Fastrax™. "This weekend of racing is sure to be thrilling."
According to the World Wide Technology Raceway website, the NASCAR K&N Pro Series East-West combo race will be held on Saturday, along with the IndyCar event. Other races this weekend include Indy Pro 2000, Indy Lights and Vintage Indy competition. On Saturday, there will be an NTT IndyCar Series driver autograph session and a pre-race party featuring DJs, the Gateway Girls, and beer Olympics.
For more information on the racing weekend or to purchase tickets visit the World Wide Technology Raceway website.
Team Fastrax™ dedicates every performance to a local fallen hero. They may be gone but are not forgotten. This performance by Team Fastrax™ is dedicated to Army Pfc. William E. Thorne. For more information on Army Pfc. William E. Thorne, visit the Honor the Fallen website.
ABOUT TEAM FASTRAX™
Team Fastrax™, sponsored by SELECTiON.COM®, is the most ambitious professional skydiving team in the world. The team has a roster of more than twenty-nine active members, with a collective of more than 300,000 skydives. Team Fastrax™ has performed exhibition skydives all over the world for audiences large and small as a patriotic display or as product promotion.
ABOUT SELECTiON.COM®
SELECTiON.COM® is a nationwide provider of criminal and pre-employment background screenings, also referred to as a Consumer Reporting Agency. Headquartered in Cincinnati, OH, SELECTiON.COM® is a veteran-owned company that has been in business since 1991 and offers more than 35 background and data collection services.